Interview: The Harlequin Theatre's Shawn Kjos
To celebrate a landmark — the 25th Harlequin production written and directed by Shawn Kjos — ArtScene SA decided to get him on the phone to talk about his upcoming show, Déjà Vu, as well as the business of managing a theater in San Antonio.
ArtScene SA: How long have you been with the Harlequin?
Shawn Kjos: I've been the manager of the Harlequin a little over five years now. I've actually been performing there for going on 12 years.
You've seen some evolution there at the theater.
Big time. When I started as a performer there, it was a dinner theater under different management. I was actually working at Fort Sam as a marketing manager when I transitioned [jobs] and took over the Harlequin. I love performing more than anything, but running a theater wasn't anything I'd planned. I was very practical — I had my degree in marketing — but it all just fell into place. One of those things that was just meant to be, you know?
Serendipity. What changes have you made since you've been manager there?
We've taken away the dinner theater aspect and transformed it into a regular theater. That way, we've been able to amp the entire experience up. We have all-new furniture, but we kept it cabaret-style, because I think it's neat. It provides a special atmosphere before the show, during the show and after. You'll see people at one table make friends with people at another table. It's just a cool environment and it works well with our shows, I think.
We have all-new lighting, which is fantastic, and we've got a new sound system. We've really been able to totally bring everything very current and state-of-the-art.
Déjà Vu is the 25th show you've written for the Harlequin? 25 shows?
I know! It's crazy! I told Deborah Martin, "And then I drive off a cliff!"
Every one of my shows has been different. Every one is written based on the cast I have and customized for the performers. I think it makes for a great show. When you write for the talent you have, it only improves the production.
I've got lists of my performers. I'll be driving along and hear something on the radio and think, "that's a Katie song," or "that's a Nicole song," and I'll grab my phone really quick.
With Déjà Vu, I wanted to go back and celebrate my favorite moments; some award-winning moments. It was so hard to go through all of these shows and choose.
I've done such a variety. I did a show called London Calling, which was all British invasion-type things. I've done '50s shows and I've done '60s shows, '70s shows. I did a show called Iconic, which featured the big musicians of all time. When I started going through my library of all these shows, I thought the best way to share these moments was to build it chronologically.
If I had performers who won awards for their performance, I made sure to feature their moment in the show. I reached out to the cast who performed in past shows. So many of them don't live in San Antonio anymore, but I wanted everyone who'd been a part of the journey to be able to play a part in this show if they could. For the first time, I'm doing a "guest spot" for performers who can't commit to a full run or don't live here but want to come back for it. I'm super excited to be able to bring back as many people as I worked with. It's a real trip down memory lane for me. I'm so excited. It's the best of the best of these older shows.
Since the show covers many decades, how are you handling the costuming and staging?
What we're doing is a lot of platform isolation and the use of the lighting. We've got lighting that no other theater has, and I think we're able to do some amazing things. I like to use minimal sets and let the performers speak for themselves. And I like to do almost hyper versions of costuming. With Voices on Vinyl, for example, I took that Bohemian look and crystaled the heck out of it!
I think the coolest compliment after a show is when somebody comes up and says, "You took me back to my prom," or "I met my wife," or "I cheated on my wife!" You know? I think with this show, everyone will have one of those moments, because the music spans from the early '60s all the way through to today. We work in '60s Motown and '70s disco. This is the first time I've been able to incorporate two sides from each decade, which is fun.
It's a pretty large cast, and because of all the time spans, I've got over 130 costumes. So visually I think it's going to be a beautiful show.
Wow.
I know! It sounded like a good idea on paper and then when I started putting it together, I thought, "What was I thinking?"
I'm sure you've got some of your old reliables in the cast.
Yes. With Vinyl, we had five singers, but this time we have eight, so I'm able to do the songs in a different way. And that's why I think the name Déjà Vu is kind of fun, because it's all stuff I've done that may be familiar, but it's not necessarily the same.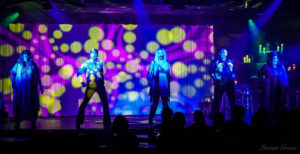 Typically, how long is the rehearsal process?
Anywhere from six weeks to two months, just depending on the complexity of the show. In this show, I've got a group of four dancers and then a fifth featured. She's a ballerina; she's a beautiful dancer. They'll start rehearsing before I bring in the vocalists. Speaking of vocalists, a lot of the music in this show is difficult harmony-wise. Shirelles, for example, and some of that '70s folk stuff has some crazy harmonies.
I started putting this show together last August. As we're in rehearsal for this one, I've started my summer show. I have to go in and create all the tracks and do all the lyric breakdowns. There's a lot of front-end to do before I can even get to the cast.
What do you think of theater in San Antonio today?
I think it's extremely diverse, and I think that's a good thing. Every theater's got its own niche, and I think everyone does what they do really well. I try to get out and see as many shows as I can. I've worked all over the place, and I think San Antonio has some great, special talent.
It's exciting for people in town, too. There's a lot of options out there for them. I think the Harlequin is the only theater that does the musical revue stuff, and it's great. I always tell people, "Give us a shot," and they're like, "I don't like musicals," and I say, "This isn't a musical. It's a production!"
It's a concert!
Yeah. It's so hard to explain our shows to people. When you say musical, 90 per cent of the people think Oklahoma or My Fair Lady. When they come and see a show at the Harlequin, they go "Ohhh…" I worked on cruise ships for five and a half years, and I compare the shows at the Harlequin to what you'd see on a ship or in Las Vegas.
There'll be guys who are so excited after the show because when their wives bring them, they're mopey, but it's so cool to hear them afterwards say, "We liked it!" So I think our shows are for people who aren't necessarily theater people. But they're also good for theater lovers.
Déjà Vu plays at 8:00 p.m. Thursday through Saturday from Mar. 8 through Apr. 13 at the Harlequin Theatre, 2652 Harney Path. For reservations, call the box office at (210) 222-9694.
Feature photo: The cast of Déjà Vu: Elissa Downs, AJ Salazar, Crystal Vera, Steven Parra, Katie Molina, Ashton Folsom, Shawn Kjos, Laura Anglin, Melissa Dean, AJ Hernandez, Gianna Rodriguez, Steve Martinez & Maddie Burroughs.
Coming soon…."Déjà Vu" by Shawn Kjos "Déjà Vu" celebrates the award winning moments of the past 25 Harlequin Music revues written and directed by Shawn Kjos. The show features over 50 songs spanning the decades from the 50's to the 80's. "Déjà Vu" features songs from The Jersey Boys, Elvis, ‪Fleetwood Mac‬, ‪Elton John‬, The Eagles, ‪The Beatles‬, ‪Bette Midler‬, ‪The Jackson 5‬, ‪Madonna‬, ‪Gloria Gaynor‬, ‪The Chiffons‬, ‪Michael Jackson‬, The Drifters, ‪Tina Turner‬ & the list goes on… Make your reservations now for the biggest production to hit the Harlequin stage. Over 130 costumes, a cast of award-winning performers, new state of the art sound and lighting & special guest performers every Saturday during the run!Call the Harlequin box office today for reservations!‪210-222-9694 ‬

Posted by The Harlequin on Thursday, February 14, 2019