San Antonio Film Festival Announces New Entry Categories for Its 25th Anniversary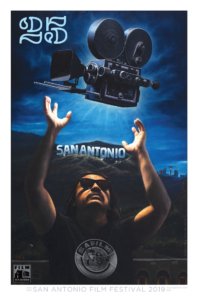 The San Antonio Film Festival (SAFILM) will be celebrating a milestone this summer — 25 years as the most prominent film event in the Alamo City.
After a quarter-century, SAFILM continues to be overseen by its founder and executive director Adam Rocha, whose tireless devotion to the city's film community is admirable.
"This is a huge year for SAFILM," Rocha said. "It's amazing that this event has continued to grow from a small underground celebration of cinema to South Texas' largest film festival."
Rocha also practices what he preaches. In addition to producing the festival each year, he works as an teacher of local high school students in film and video production. "I'm thrilled to continue to have the opportunity to educate and inspire filmmakers from around the world," he added.
To commemorate this anniversary, the San Antonio Film Festival is pleased to announce the addition of three new categories in this year's competition.
New Categories for 2019
FOOD FILMS: In conjunction with San Antonio, UNESCO Creative City of Gastronomy, SAFILM is accepting food-themed narrative, animation, documentary and experimental short and feature film length submissions for consideration in its 2019 competition.
The United Nations Educational, Scientific, and Cultural Organization (UNESCO) Creative Cities Network designated San Antonio, Texas as a Creative City of Gastronomy. San Antonio is one of only two cities in the USA with the Creative City of Gastronomy status. The UNESCO Creative City designation recognizes San Antonio for its culinary heritage, innovative gastronomy and sustainable urban planning using creativity as the engine.
TEST DRIVE — CAR MOVIES: SAFILM is looking for narrative, animation, documentary or experimental films featuring cars/vehicles as a focus within short or feature-length film submissions.
MUSIC VIDEOS: SAFILM is accepting narrative, animation, documentary or experimental music videos or music-driven short films for inclusion in the 2019 festival.
The regular deadline for film submissions is this coming Friday, February 22, but there are two further deadlines: March 29 (late deadline) and April 29 (extended deadline). Submissions will be accepted until that date. See the Film Freeway website for specific entry details.
The San Antonio Film Festival is accepting works from filmmakers at every level within these categories:
Feature Length Films
Short Films, College Films
High School Films
Films Made in San Antonio
Screenplays (short and feature-length)
Festival awards categories are: the Grand Prize; Jury Prizes for Best Performance, Best Narrative Short, Best Documentary Short, Best Historical Documentary, Best Animated Short, Best Music Video, Best Screenplay (short and feature-length); Audience Awards for Best Narrative Feature, Best Documentary Feature, Best College Filmmaker, Best High School Filmmaker, Best San Antonio Filmmaker, Best Actress in a Leading Role; and a Lifetime Achievement Award.
The 25th annual San Antonio Film festival will be held July 30-Aug. 4, 2019, at the Tobin Center for the Performing Arts. Festival information cn be found on the organization's website.
Photos courtesy San Antonio Film Festival
CALL FOR ENTRIES: SAFILM – San Antonio Film Festival is now accepting films in new categories of Food Films; Test Drive: Car Movies; and Music Videos. Regular submission deadline is this Friday, Feb 22 with late & extended deadlines: March 29 & April 29, 2019. #LETSWATCHMOVIES Submit Here –> https://filmfreeway.com/SAFILM

Posted by SAFILM – San Antonio Film Festival on Tuesday, February 19, 2019