Get In the 'Groove' at the Harlequin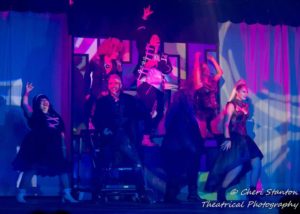 There are still three opportunities left to catch Groove at the Harlequin, located at the Joint Base San Antonio — Fort Sam Houston. As with the theater's earlier Voices on Vinyl, this is a nostalgic rundown of familiar hits, this time from from the late 1960s.
Once again, multi-tasker Shawn Kjos writes, directs and provides the musical direction for the show.
The result is an amusing pastiche of live concerts and those garishly-colored '60s television specials. If you're old enough to remember a TV show being presented "in living color," you especially know what I mean.
Groove is a psychedelic trip through the greatest hits of such musical acts as Simon and Garfunkel, The Mamas and the Papas, The Beatles, Janis Joplin, Jimi Hendrix and more. Songs include "Scarborough Fair," "California Dreamin'," "Helter Skelter," "Me and Bobby McGee" and "Foxy Lady."
The performers — Stephen Martinez, Crystal Vera, Katie Molina, Kjos, Johnny Halpenny, Deserae Oliva and Melissa Dean — are all in fine voice, and even though some of the songs are serious in tone, they engage in some playful stage interaction. The lighthearted mood is reinforced by the hippie costuming (by Kjos, of course) and the Laugh-In style set design by Kjos, Nikki Folsom, Robert Olivas and Dave Dean.
Groove plays this coming Thursday, Friday and Saturday at the at the Harlequin, located in Bldg. 2652, Harney Rd., on the Fort Sam Houston base. Reservations can be made by calling (210) 222-9694 during box office hours (Tues-Fri. from 12:00 noon-3:00 p.m. and Sat. from 1:00-3:00 p.m.).