Theater Interview: The Company Theatre's J. Damian Gillen on Comic Shakespeare
The Complete Works of Shakespeare (Abridged!), the annual event staged by the Company Theatre, is moving from its familiar place on the River Walk into a dinner theater setting, due to an unforeseen scheduling conflict.

The show must go on, however, and it will plays two dates at Little Italy — April 6 and 7, 2018. The Company's artistic director and co-star, J. Damien Gillen, talked a bit about the show with ArtScene SA.
How do you manage to zip through all of the Bard's 37 plays in such a short time?
Sheer insanity and energy drinks…no, really, we must take many liberties to condense all 37 plays into 87 minutes, with only three actors, so we take a whole lot more than just liberties! There are many different theatrical conventions used: Titus Andronicus done as a cooking show, the Histories are done as a football game, Othello is done as a rap song… and all of Act 2 is dedicated to Hamlet…because, you know, it's HAMLET.
How long has the troupe been doing Complete Works?
The Company Theatre has been touring Texas for 23 years and we've been doing this particular show at our Flagship restaurant Little Italy for 10 years. I have worked with a LOT of Shakespeare companies in the past, so when I saw this script, I knew this would be a great way to bring the holy word of the Bard to the masses!
What, besides the frantic pace, gives this show its humor?
Part of it is just the inherent hilarity of Shakespeare's plays — Macbeth has me in stitches every time. But I think the biggest laugh for the audience is seeing three actors trying to play every part Shakespeare wrote, with a bearded middle-aged man playing Juliet, Ophelia and others, changing costumes on the fly, and having their psyches and bodies broken down by the lightning pace. Audiences are sadists!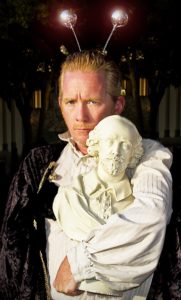 It moves into a dinner theater setting for this year's FUNdraiser. How will you adjust the show for this new setting?
Well, we will be celebrating my and Shakespeare's 454th birthdays (give or take 400 years.) This fundraiser is to help raise money for a new touring van/bus! We will miss doing the show on the River Walk with the river boats driving through the performance every few minutes but somehow we will manage. it's not very often when you're performing on stage that a boat full of people drive by between you and the audience, it really makes for some fun improvisations.
Maybe we could ask a couple of the waiters to walk through the restaurant from time to time, pretending to be a boats, making loud Downtown honking noises, and impersonating drunken tourists…you know, the usual.
What can neophyte attendees expect from witnessing this production?
Madness, and more madness! It's like buying one play — and getting 36 for free! Really, the wonderful thing about this play is that it is for people who love Shakespeare, and for people who hate Shakespeare, all in one convenient package! Plus, if they're lucky enough to be in the 'splash zone', they might just get to be a part of the show! And where else can you get dinner AND a show for only $40? Best deal in town.
The Complete Works of Shakespeare (Abridged!) plays April 6 and 7 in the Big Apple Room at Little Italy, 824 Afterglow St., San Antonio. Doors open at 6:00 p.m. and showtime is 7:30. Tickets are $35 in advance, $40 at the door. Call (800) 838-3006 or order online. Email info@thecompanytheatre.org, company website: http://www.thecompanytheatre.org.
Top photo, from left to right: Benji Regan, Schedel Luitjen and J. Damian Gillen.