Review: 'Bless Me, Ultima' at the Classic Theatre — Run Extended
Bless Me, Ultima, Rudolfo Anaya's adaptation of his beloved literary work, arrives at the Classic Theatre in a sterling production. The 1972 work was a real breakthrough in Chicano literature, with its mixture of English and Spanish and emphasis on native mysticism. Those aspects are all effectively carried over to the play.
Set in post-World War II New Mexico, this it the coming-of-age story of Antonio. a dreamy youth who is given invaluable guidance from Ultima, a folk healer who lives with his family. She shows him the magic that exists in nature while helping him to accept the brutalities that are sadly part of the human condition. He proves to be a receptive vessel for her wisdom and magical tales. Although the family adores her to the point of reverence, other townspeople think she's a witch, and conflicts are bound to erupt.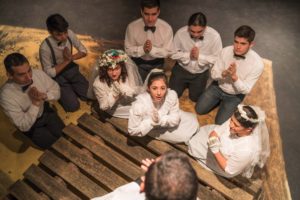 Antonio's father, Gabriel, is a vaquero who wants his son to follow in his footsteps and farm the land. His mother, Maria, has other plans — she wants him to become a priest. This is a source of frequent bickering between the couple. Also disheartening is the fact that Tony's brothers don't want to return home after serving in the war, which forces Maria to heap all of her hopes and dreams upon the shoulders of her youngest child. Understandably, the boy feels overwhelmed by it all.
Andrew Treviño and Marisa Varela are perfectly cast as Antonio and Ultima, so convincing is the depth of their relationship. Luis Garcia, Jr., and Anna de Luna are also solid as Gabriel and Maria. Carlos Alvarado impresses as the elder Antonio, who serves as the narrator of the piece.
The fine ensemble cast effectively portrays a number of characters in this far-reaching work that addresses such heady issues as faith, mysticism and mortality. The minimalist set design by Ric Slocum is ideal for the Classic's arena-style staging, and Diane Malone's costumes are attractive. José Rubén De León directs with a firm hand, keeping this rather epic piece comprehensible at all times.
Bless Me, Ultima plays Fridays and Saturdays at 8:00 p.m. and Sundays at 3:00 p.m. through Mar. 25 at the Classic Theatre San Antonio, 1924 Fredericksburg Road. Tickets can be obtained online or by calling (210) 468-3900.