Review: 'Frida Vice-Versa' from Teatro Audaz
Celebrated artist Frida Kahlo certainly had a rough time of it. From surviving polio and a devastating bus accident, whose impact cause her to suffer for the rest of her life, to her rocky relationship with another famous artist, Diego Rivera, she found solitude in her art. In fact, she painted through her pain. Vividly written by R. Dennis Green and Marian Licha (who originally toured as Frida), Frida Vice-Versa resonates with vigorous life.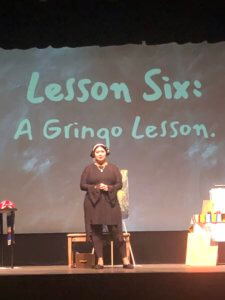 Frida and Diego married and traveled between Mexico and the United States throughout the '30s and '40s. The self-taught artist was thrilled to have a solo exhibition in New York in 1938, and one of her paintings was even purchased by the Louvre.
But her personal life continued to be dogged by tragedy, including miscarriages, abortions, multiple surgeries and an amputation. Rivera even had an affair with Frida's younger sister, Cristina. Though she was humiliated, Frida still held strong. In fact, she went out and entered into an affair of her own.
In Frida Vice-Versa, which is making its Texas premiere, courtesy of Teatro Audaz, Kahlo tells her life story in ten lessons while she leads an unorthodox art class, which becomes much more of a confessional than a tutorial. The title of the piece refers to life being death and vice-versa — extremes that haunted Kahlo through her tragically short life.
Victoria Gutierrez is marvelous as Frida. Standing alone on the stage of the Public Theater of San Antonio, she manages to pull us into Frida's compelling story. And when she speaks with passion about her one true love — her art — she is also able to laugh off the pain she is suffering. Along with Kahlo, Gutierrez portrays a number of other characters, including Rivera, Cristina and her domineering father. Not only are these character shifts convincing, they can be bleakly funny. One needs a bit of azücar now and then to even out the amargura.
The show is directed with assurance by Laura T. Garza. You can tell that the actor and director clicked. Frida Vice-Versa is available on demand through Mar. 7.
Photos by Abraham Ramirez