Theater Review: 'Empanada' by Anel Flores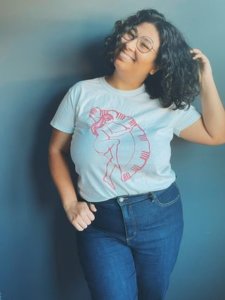 Satya Chávez stars as Paloma, a young lesbiana coming  to terms with her sexuality in spite of the harsh judgment of others in Empanada, now streaming courtesy of the Public Theater of San Antonio.
Set entirely in her kitchen, Paloma tells her story, describing her life with her family. her conflicts with the church (which condemns her sexuality), and — finally — the all-consuming desire that she can no longer deny.
Written by Anel Flores, Empanada is colorful and frequently funny. It's also intensely intimate at times. As Paloma, Chávez delivers a fearless performance. She brings the author's words to passionate and vivid life. And with her animated expressions, she is consistently fascinating to watch. And she sings! It is also brilliantly directed by AnaLisa Leos-Garcia, who brings her story to life.
Obviously, Empanada concerns some adult themes, but it's definitely worth a watch.
It plays Thursdays, Fridays and Saturdays at 7:30 p.m. and Sundays at 2:00 p.m. through March 14. Streaming tickets are available here.