New Physical Theater Play Debuts Feb. 9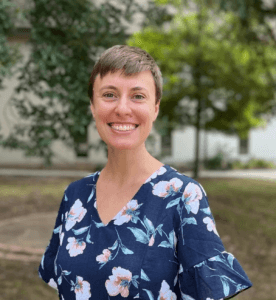 We Sail On In Darkness is a new physical theater play set to debut on Feb. 9 at St. Mark's Episcopal Church in San Antonio, located at 315 E Pecan St.
The female-led cast and crew, assembled by local resident Ruthie Buescher, tells a modern adaptation of the story of mystics Hildegard of Bingen, Julian of Norwich and the Desert Mothers, Angela of Foligno and Martyred Perpetua, based on their original writings.
"We are very excited to invite people, especially women, to follow us along this journey — using music, movement and color — to rediscover the courage, joy and suffering of these women, whose stories are often overlooked," Buescher said.
"The concept of physical theater may feel very new  to some  audiences, but it's actually based on some of the oldest traditions of theater, and we are so excited to bring this refreshing, creative way of telling a story to the San Antonio theater audience."
We Sail On In Darkness is conceived as a movement through place and time, "climbing in and out of visions" while telling the stories of these renowned mystics, connected by their shared accounts of suffering, courage and persistent joy. The cast consists mainly of women, ranging from ages 26 to 60, and each of the main characters representing the four mystics represents one of the ways a person can suffer.
Julian of Norwich (Cynthia Neri), who was healed from sickness and spent a significant amount of time living in a plague-ridden world, represents the suffering of the body.
Angela of Foligno (Michelle Bumgarner) was seen as a crazy woman by the townsfolk, and wrote with such anguish that she represents the suffering of the mind.
Martyred Perpetua (Courtney Johnson) represents how much one can suffer at the hands of others.
Hildegard of Bingen (Katrin Blucker Ludwig) dedicated her life to reforming the Catholic Church and caring for the needs of others. She represents the sharp grief experienced by being aware of the suffering of others.
"The words of the mystics are central to the play—their own writing is an integral part of the script. But interpreting their journeys through the lens of physical theater felt like the perfect way to blend visions and reality across time. I can't wait for you to experience this special story, and perhaps a form of theater you've never seen before!" —Ruthie Buescher
All the male parts are carried out by one man (Benjamin Watson), who chameleons his way through the play. The creative team is primarily female choreographers, puppeteers, dancers and musicians.
Buescher wrote the script for We Sail On In Darkness in spring 2019 while she and her husband spent a month at a retreat center in the Texas Hill Country, and have since settled in San Antonio. She spent most of that month researching the mystics and Desert Mothers, along with the more well-known Desert Fathers. She was intrigued by the Desert Mothers' writings and visions, and how these women had been marginalized, and she was compelled to tell their stories.
General admission is $25, with a special student performance on Feb. 15 at 7 p.m. and a pay-what-you-can performance on Feb. 16 at 7 p.m.
Performance Dates
We Sail On in Darkness plays Feb. 9-11 and Feb. 15-17 at 7:00 p.m. with a matinee on Feb. 18 at 2:00 p.m. The Feb. 15 performance is for students, and the Feb. 16 performance is pay-what-you-can. St. Mark's Episcopal Church is located at 315 E Pecan St. Tickets are available here and schools interested in group tickets for the Feb. 15 performance can send an email to wesailonindarkness@gmail.com.