SXSW World Premiere: Shana Feste's 'Boundaries'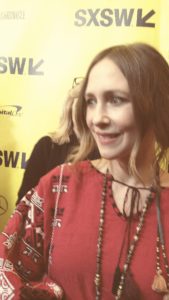 Boundaries, the new comedy from writer/director Shana Feste (Country Strong) is a familiar family road trip story buoyed by a terrific cast and lots of offbeat humor. At SXSW, Feste said she based the lead characters on herself and her father, and her fine handling of the material certainly bears that out.
Vera Farmiga stars as Laura Jaconi, a divorcee raising a teenage son, Henry (Lewis MacDougall), while trying to cultivate relationships of her own. A couple of problems stand in the way, however. Laura is a passionate rescuer of animals, and her house is continually overrun with stray cats and dogs, which sends would-be boyfriends packing. Henry disapproves of them anyhow, and he has a habit of working out his anger by making nude illustrations of them in the most unflattering ways. He's definitely talented, but his work is hilariously vulgar.
When Henry gets expelled for drawing an extremely lewd portrait of a teacher he dislikes, Laura plans to enroll him in a private art school more attuned to his sensibilities, but it isn't cheap. After fruitless attempts to borrow the tuition money, she finally calls her estranged father, Jack (Christopher Plummer), but he has a problem of his own. He's being kicked out of his nursing home for his disruptive behavior, and he will be transferred to an even more miserable place unless something else can be arranged.
He has a proposal. If Laura will help him find new digs, he will provide her with the necessary funds. Unbeknownst to her, however, those funds will be raised by selling weed. Still stinging from his abandonment when she was a child, she reluctantly agrees to the plan, provided there are boundaries. They make the journey from Portland to the Los Angeles home of her sister, JoJo (Kristen Schaal), who has agreed to take him in.
Jack enlists Henry's assistance to help him unload $200,000 in primo weed along the way. The trip is not without its conflicts, of course, but it eventually transforms into something different as grievances are aired and something like a détente is reached.
The always watchable Farmiga is sensational as the high-strung Laura. It's nice to see her display her comic chops again after a series of thrillers. MacDougall (A Monster Calls) is also terrific as Henry. Still only 15 years old, he brings a solid maturity to his role. Speaking of maturity, the 88-year-old Plummer could play Jack in his sleep, but the veteran actor adds an amusingly misanthropic edge to the curmudgeonly character. Though he maintains a pleasant demeanor on the outside, his nonstop acerbic commentary expresses how he really feels. Schaal's goofy JoJo could be portrayed as a typical L.A. airhead, but she invests the performance with a convincing warmth.
Bobby Cannavale has a brief but memorable role as Laura's creepy ex-husband. Christopher Lloyd and Peter Fonda also turn in humorous cameos as Jack's pot-loving pals. Equally impressive is Yahya Abdul-Mateen (The Greatest Showman) as Laura's co-worker, Serge, who seems to be the only decent man in her life. One wishes he had a few more scenes.
Feste treats all of them with affection, even when their behavior is abominable, and the comedy blends nicely with the inevitable moments of drama. If you're a fan of quirky characters and offbeat humor, this is definitely a road trip you'll want to take.
Boundaries was reviewed at the Paramount Theater in Austin, Texas, on Mar. 12, 2018. It is scheduled for nationwide release on June 22.
Film still courtesy Sony Pictures Classics. Red carpet premiere photos by author.