A Tribute to Greg Hinojosa from Nicole Erwin
As everyone knows by now, Greg Hinojosa lost his battle with cancer yesterday. He was such a leading light in San Antonio theater. Actor, director and advocate, his presence will be deeply missed. In a Facebook post on March 14, Greg said "I ask you all to live, laugh and love one another. No one knows one's destiny. We are all struggling silently. So, smile more. It makes all the difference in the world."
My sister, my nephew and I went to La Cage aux Folles at the Woodlawn and laughed ourselves silly. It's my most vivid memory of Greg, enjoying the hell out of playing Zaza. Hard to believe it's been six years ago already.
Nicole Erwin, Managing Director of the Overtime Theatre, wrote a beautiful tribute to Greg on Facebook just before his passing. I asked her if I could republish it here.
---
With tears in my eyes and a heart full of disbelief and sorrow, I celebrate you, Dear Greg.
There is so much I want to say to you. I hope my words don't fail me. You are loved and cared for. You've touched the lives and hearts of so many people with your talent, creativity and passion. You believed in me and my talent when few others did. When you cast me as your Mrs. Corry in Mary Poppins, I honestly felt like I had arrived.
I was an unknown in S.A. when I moved from Colorado. Playing the role of the beloved gingerbread lady meant the world to me and is one of my most treasured roles. I will never forget when I walked into the theatre for rehearsal how you congratulated me when I became Executive Director of The Overtime. When you said "Congrats, Nicole! Please let me know if I can help you with anything," it meant so much to me. Your kindness then and now shines through with each interaction you have.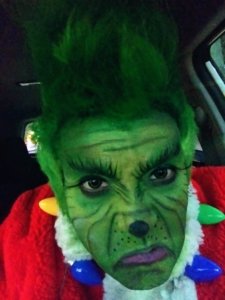 Thank you for everything you have done for me and others in our community. When I needed creative guidance on my productions you were there. When I needed someone to show me how to apply special effects makeup and transform me into a green wicked witch, you were there. When I needed someone backstage or in front of house, you were there.
When I needed guidance directing my first play, you were there. When I needed a set designer, you were there. One of the greatest moments of my theatrical life was directing you in The Last Waltz at The Overtime. I, Nicole, was directing Greg Hinojosa! I had to pinch myself to make sure I wasn't dreaming. I can still hear your voice greeting me when I would arrive for our production meetings.
Greg, I celebrate you and I thank you. Stay courageous. We do not know what He has planned for us. Love, prayers and a big hug. I leave you with this which pretty much sums it up. "Because I knew you, I have been changed for good." May the Lord hold you in the palm of his hand always. Until we meet again, my friend.