An exclusive interview with the director and star of 'Antigone'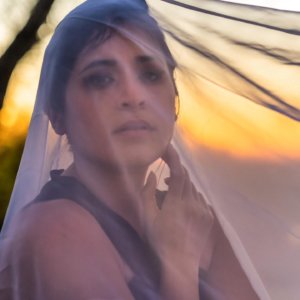 Sophocles' Antigone is the next play in the Classic Theatre of San Antonio's "Theater in the Rough" series. The play opens April 8 at the San Antonio Botanical Gardens. The director, Kelly Roush, and Antigone herself, Josey Porras, take us behind the scenes in this exclusive interview.
ArtScene SA: How does the "theater in the rough" process differ from original staging?
Kelly Roush: We are rehearsing out of doors in a couple of different parks, socially distanced and masked. We put out cones to help actors visualize the staging and keep people six feet apart. Even though we may see the light coming, we're still keeping it safe for our actors, production team and patrons.
It's done in this beautiful outdoor space, which is so relevant since the play has so much to do with nature, and violence forced upon nature, whether it's actual nature or our emotional nature. It feels very right at a time when things are feeling so weird that this comes together well.
Josey Porras: I absolutely agree. I love being outside. Kelly and everyone in the production has done a wonderful job of keeping us all safe. I definitely feel connected to the roots of this play, as it was traditionally performed outdoors with its strong themes of nature. And also in my process, I just feel that I want to touch the earth. I love to be able to reach down and feel the dirt in my hands. It's beautiful.
ArtScene: How did you prepare for the role?
Josey Porras: I actually got to read a scene from Antigone in college, and I recently told my professor, "We've come full circle! I hope you come to see a production!" I really resonate with Antigone with her big ideas about religion and spirituality. And I'm glad I kept those notes from six years ago.
ArtScene: What's most challenging about this production?
Josey Porres: For me, it's about rewiring my brain to find news ways to connect with the others onstage. My actor's instinct makes me want to go hug these people, hold their hand and get close. But I can't. I'm rewiring my brain to reach them through other means. And with the mask, my face is covered at some point. How can I express my emotions with my whole body?
Kelly Roush: It's interesting, because when people take off their masks, they look different with their whole face. As a director, we don't have our usual toolbox. It can be exhausting. Characters can't touch. We want to do things, but then we remember: "You're too close." So we spread it out, but how do you build a picture that tells the relationship with your actors? So much of what you've known from before goes out the window. It's really fun to work with people who are willing to jump in and try something different.
And we rehearse outdoors from six to nine at night. And from eight to nine at least, it's dark. We have some portable lights, but it's still hard to see. Our rehearsal lights aren't the same as the actual production lights we'll have at the Botanical Gardens.
ArtScene: What makes the play relevant for today's audiences?
Josey Porras: It's coming from a place of love. If one person has something on their mind, it comes from a place of caring — a place of love. And it's not only your own voice; there are also voices around you to listen to as well.
Kelly Roush: That's lovely. And one of our big themes that's been resonating for me as a director is one of love and loss. Everyone in this play is dealing with it. And it's all a matter of how they're dealing with it. It's how that loss takes us to different places that we can't see beyond. Antigone can't see beyond this — what's right and wrong? How are you able to listen to the people that you love when they can sometimes be your harshest critics?
Creon desperately wants to have peace in his city and to be a good leader. He's doing it the only way he knows how. And that's big, horrible job. We're all limited. Look at each other. Love each other. Be kind to each other.
There's such a depth of despair. What we've been through the past year, not being able to bury our loved ones. All of these pieces fit. We either work together and live as a community. Or we die as a community. We destroy each other. And this adaptation ends with that moment of hope. The sister has the last line, and it's like, "Surely we can figure this out."
Even my kids were listening to the audition videos. I have a 13-year-old and a 16-year-old. And one said, "Mom! What is that?" I said, "It's Antigone, babe." She said, "That's so relevant! It sounds like now!" Yep.
---
Antigone plays at 7:30 p.m. Thursdays, Fridays and Sundays at the San Antonio Botanical Gardens, 555 Funston Place, San Antonio, TX 78209. Please bring your own chairs and/or blankets to each performance you attend. The Classic Theatre of San Antonio will have masks and chairs available for purchase, should you need one. Tickets are available here.