Chekhov's Poignant 'The Cherry Orchard' at the Classic Theatre
Written just a year before his death, Anton Chekhov's The Cherry Orchard is — appropriately — a play about endings. The playwright considered it to be a comedy, and although it has moments of humor, such moments are often more rueful than knee-slappingly hilarious. It's the perfect piece to close out the Classic's 10th season.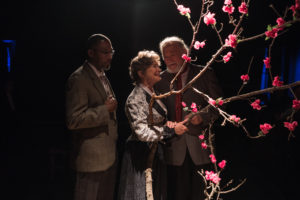 After spending years living in Paris, Lyubov Ranyevskaya (Kathy Couser) returns to her family mansion with daughter Anya (Samantha Harkiewicz), to face impending disaster. Deep in debt, the home is scheduled to be auctioned off unless the family can raise the necessary funds to save it.
Lopakhin (Kevin Majors), a former family serf who has risen in the ranks to become a successful businessman, offers to provide the money if Lyubov will allow him to cut down the orchard and build summer homes for the booming tourist trade.
She adamantly refuses, horrified not only at the threat of losing her beloved cherry trees but also the influx of "summer people" who are far too common for her cultivated tastes.
As they tries to come up with a solution to their dilemma (including borrowing money from a much-loathed aunt), it is clear that this helpless group lives in a state of such perpetual ennui that no decision can be reached.
With The Cherry Orchard, Chekhov has created a moving portrait of loss. In addition to the impending loss of her home, Lyubov has lost her husband. Both she and her childlike brother, Gayev (Charles Michael Howard), still mourn the loss of their beloved parents. Most painful of all, however, is the loss of the aristocratic lifestyle they once enjoyed.
Couser is splendid as the out-of-her-element Lyubov. Each of her character's emotions are easily read as they drift across her expressive face. Majors is also fine as Lopakhin, who makes his transition from awkward family friend to ruthless moneylender compelling. Howard is an excellent Gayev, the bewildered manchild, Harkiewicz and Sara Fisch are likewise effective as sisters Anya and Varya, as is Sam Mandelbaum as the rebellious university student Trofimov. The rest of the cast is fleshed out by a fine ensemble, and all of them inhabit their roles well.
The set design by Alfy Valdez is striking, with glass-paned doors that look out at the chilly landscape with its titular orchard and a Chagall-inspired mural adorning the rear walls. Jodi Karjala's costumes are also good looking and period-appropriate, with the exception of two characters' outfits (Trofimov and Dorian Arriaga's Yasha) that are intentionally anachronistic. Chuck Drew's lighting and sound are subtle and evocative.
The piece is well directed by Andy Thornton, who has a deep understanding of Chekov's intentions and really makes its themes come through.
The Cherry Orchard plays Fridays and Saturdays at 8:00 p.m. and Sundays at 3:00 p.m. through May 27 at The Classic Theatre, 1924 Fredericksburg Road. Tickets can be obtained online or by calling (210) 589-8450.
Photos by Siggi Ragnar.