Interview: Paul Tinder, Co-Founder of Performing Arts San Antonio
Located in the Hill Country Village, Performing Arts San Antonio (PASA) was founded by Paul Tinder and Vaughn Taylor-Tinder, former Angelenos who've brought their own style of specialized, intensive training for theater, film and television to the Alamo City. I sat down with Mr. Tinder to discuss the company and the many services it offers.
How did it all get started?
We founded PASA in 2009 and opened the doors with a tribute to Frank Sinatra called Staring into Blues Eyes for New Year's Eve 2010. And we keep expanding.
Have you always had in mind including the educational aspect?
As a matter of fact, we started with the educational aspect. We did a couple of summer camps, renting other spaces, when we first got here. When we did that, we found that there was an incredible opportunity here for New York training and L.A. training, which is where we're from. This training is very different from community theater, regional theater and educational theater. It's more like being in an immersive BFA program in college as opposed to a BA program.
What we do here is get people to the place where they become competitive. Most of the people we get here have a dream to pursue their career in major markets. We coach them on all the stuff; the audition material. It sets us apart from community theater because of the level of training we give from all of the experience we've had.
Tell me about the educational programs.
We train people from age 10 to adult. We have a really vibrant adult educational program. Some people just want to become better actors and stay in the community. Others, as I mentioned, want to go to major markets.
NESA does a lot of what we do, but we provide a lot more one-on-personal attention than NESA does. It really breaks it down into a professional way of looking at acting. It's not "How do I express emotion?", but "How do I fulfill a moment as a character?" It's more intensive. We've had people come in who've done shows in other places, and they find that we challenge them a lot more, to be able to find their character than they're used to doing. Some people absolutely love it, and others not so much because they're comfortable doing what they're doing. But that's our niche.
Garry Marshall was my mentor. I remember sitting in Garry's office and talking about auditioning and talking about how he auditions people. Auditions for film and television are typically from the waist up. But Garry's auditions were full frame. He wanted to see you "fill the air," as he put it. It's the physical truth of the characters as well as the emotional and verbal truth.
We have two kids on MTV series, one in Houston and one in L.A., and another just got cast in a web series.
From here?
Yep. From here. For the girl who's on the web series, we did all of her audition demos here. She sent those in, and they asked her to go in. So it's a different level of training and a different perspective that we apply to it. How hard is it to get cast in film and television in L.A.? It's hard to be able to get going.
Here, the students benefit from our experience. I've starred in over 450 episodes of television and numerous feature films. My wife has done 250 national commercials as well as over 150 television shows. So that's the level of expertise we bring as far as the way we train here and how we direct.
We audition a lot of people here. We've auditioned for feature films and other projects that we've been asked to be involved with. If you have 10 actors coming in, you'll get pretty much the same performance from nine of them, because they're playing the story. The one person who comes in and fulfills the character, which is based on relationship and experience, not story, stands out like crazy.
How do you learn to identify out of the script the moment that has to be experienced? That's what makes you competitive with your talent.
We've had 2,000 students through here in the years we've been open. Some of those students come in and find out that they don't want to be an actor. They want to be a star on MTV. Others come in and they absolutely gravitate to it, because what we do is feed them the information they need to pursue their dreams. That's how people find us. They're looking for the level of training that we give.
In terms of structure, are there beginning, intermediate and advanced classes?
In the adult classes, it's one level. I get calls all the time, saying "Do I have to be a professional to take your classes?" No — you just have to want to learn. With the adult classes, we take you where you're at. With each session, you become more skillful, so we challenge you more.
I have two teen classes, beginner and advanced. We have a girl going to study in England coming out of our advanced teen class. The footprint's big, but we take you where you're at. It would be nice to be able to "bracket" classes, but it's not possible because we're so busy with rehearsals and everything we do in the theater.
We're starting a new program called Assorted Nuts, which is an outreach program going into daycares and elementary schools, taking fractured fairy tales in. It gives people an exposure to the arts at a very young age. It's really cool to be able to do that. There's a lot of improv tied into it, and minimal scripted material. It's also immersive, with the kids coming up on stage — "Did you see where the wolf went?"
Kindermusic is also coming, which is a music program for pre-K and K students. Previously we started at age 10 and went up, so we're really excited to start these programs for younger students. There's a Saturday morning "Mom and Me" theater with Assorted Nuts shows,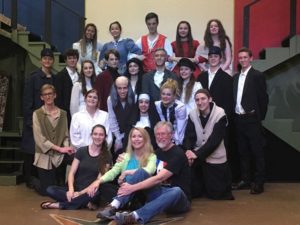 On the performance side, where are you in your season?
We just finished The Elephant Man, and next month is On a Different Note, a musical revue with songs from Wicked, Heathers, Jane Eyre, Avenue Q and more, We're doing Young Frankenstein in October for our fall show. What we're doing for our musical theater summer camp is what we call our "Broadway prep." It challenges kids to go beyond just having fun with it and get involved in the skills that go into musical theater performing. That's the Addams Family School Edition.
So the productions staged here are with students?
No. It's all open casting. That's been the hardest thing to do. Since we're the "new theater" in town, people habitually go to other theaters. There are communities there, and friendships there. We've become very well known for our training aspect, but to be fully accepted as a producing entity in San Antonio has been a struggle.
Charline McCombs told me, "You cannot be a double-looper. If you're gonna be outside 1604 nobody inside 410 will come and see you. And if you're inside 410, nobody from outside 1604 will come to see you." That's why we're here. We're centrally located and we pull from such a large geographic area. She also said, "San Antonio will never accept you unless you can tell them what float you're on."
And it's sort of true. When we first opened, the city wanted us to go downtown. But we figured that the north side of San Antonio is underserved. Why do we want to go downtown when there's everything else there? Let's expand the arts community. So that's why we're where we are and why we pull from as far as we do.
More information about Performing Arts San Antonio and the classes it offers can be found on the company website.