2018 San Antonio Film Festival Award Winners Revealed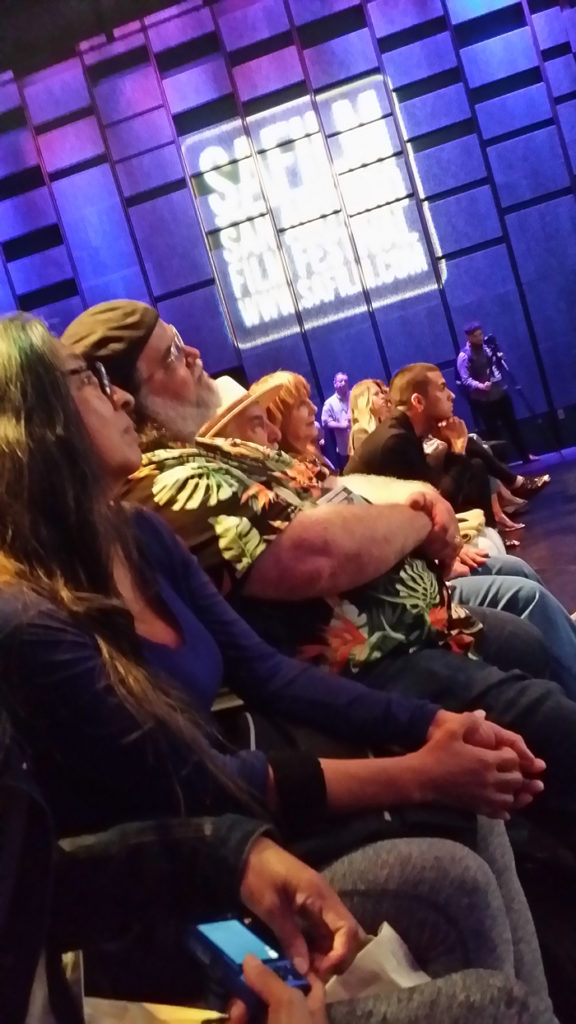 On Saturday, Aug. 4 at 7:00 p.m., the Annual San Antonio Film Festival Awards were presented at the Tobin Center for the Performing Arts in a gala ceremony hosted by KONO 101.1FM's Dave Rios.
A total of 15 awards were given to a vast array of filmmakers — veteran Hollywood professionals, talented high school students and local creators of cinema.
City council member Roberto Treviño presented the 2018 Legacy Award to San Antonio celebrity and actor Jesse Borrego, who screened several of his films at the Festival, including his directorial debut, Closer to Bottom.
Mayor Ron Nirenberg, who attended last year's ceremony but was unable to make it to this year's event nevertheless sent a heartfelt message via video:
"Jesse has been an incredible part of the arts community and I'm here to say, 'Congratulations, Jesse, on your award — on your leadership within our community and on shining a great light about where art and film in San Antonio can go.'
"Last year, I said that San Antonio does passion for the arts better than any other city in Texas, and I stand by that remark. In fact, today's 24th anniversary of the San Antonio Film Festival is a great demonstration of that."
Borrego is noted not only for his work in Hollywood but also for his eager promotion of the arts in the Alamo City.
"I was the host of [Adam Rocha's] second film festival," he recalled as he received the award. "He was a young, budding filmmaker, and he comes to me and says, 'Hey, you're this guy! Would you come do this?'
"I didn't say, 'Well, it ain't Sundance.' I said, 'Absolutely, man! What do you want me to do?' That, more than anything, is the legacy that I'm proud of. To give back, which then becomes the now. So thank you so much for the now!"
The Jury Prize for Best San Antonio Filmmaker was presented to Angela and Mark Walley's Tia Chuck, a documentary about Chuck Ramirez, one of the city's most distinguished artists and a tireless fighter against LGBTQ discrimination.
Actress/writer/director Polly Draper (Thirtysomething) received the Grand Prize for her new comedy Stella's Last Weekend, which screened at 9:00 p.m. that same evening. Legendary producer Fred Roos (The Godfather, Apocalypse Now), who participated in a roundtable at this year's Festival, was also a recipient of a special Lifetime Achievement award.
There was also a touching video remembrance of Hollywood producer Harry J. Ufland, who received last year's Legacy Award. He was eager to participate again in this year's Festival, but sadly died of brain cancer on Mar. 6.
Here's this year's roundup…
The Supporter of Cinema Arts
Cesar Hernandez
Short Screenplay
Forever Waiting
Gavin O'Herlihy
Feature Screenplay Winner
John Horse
Walt Alexander and James Riordan
Grand Prize
Stella's Last Weekend
Director: Polly Draper
Best Performance in a Leading Role
Valentina
Victoria Del Rosal
Jury Prize for Best Narrative Short
Unlucky's Luck
Director:  Felipe Holguin
Jury Prize for Best Documentary Short
Do or Die
Director: Dan Klores
Jury Prize for best Historical Feature Documentary
Fail State
Director: Alexander Shebanow
Jury Prize Best Historical Short
Towards the Sun
Director: Monica Santis
Jury Prize for Best Animated Short
Weekends
Director: Trevor Jimenez
Jury Prize: Best Narrative Feature
The Darkest Days of Us
Director: Astrid Rondero
Jury Prize Best College Filmmaker
The Letter
Director: Jazmin Aguilar
Jury Prize Best High School Filmmaker
Catman: The Love Thief
Director: Austin Coombs-Perez
Jury Prize — Best San Antonio Filmmaker — Tia Chuck
Director: Angela Walley & Mark Walley
Jury Prize: Best Actress in a Leading Role:
The Butterfly Tree
Melissa Gerige

Feature photo: Jesse Borrego wins his award.