Sterling Houston Festival Honors SA Cultural Icon
Sterling Houston (1945-2006) was a beloved San Antonio cultural icon. Playwright, actor, author, and musician, Houston was a prolific and innovative artist. He was a master of blending history and fact with his own brand of mythology and fiction. His fruitful career spanned across four decades, during which he wrote over thirty plays, four novels/novellas and appeared countless times onstage throughout San Antonio and around the country.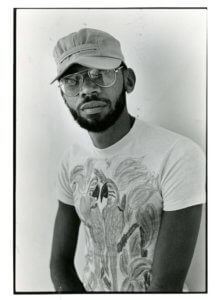 Prior to the pandemic, a collective of arts organizations and individuals formed to produce a festival honoring the life, work and legacy of Sterling Houston. Some are former collaborators, friends and colleagues of Houston. Others, while never having had an opportunity to work with or know the artist personally, are nonetheless inspired by him. All are united in their desire to produce a festival befitting of Houston's artistic excellence, while paying tribute to the indelible imprint he left on the San Antonio arts community and all those who knew him.
The organizations became known as the SHF Planning Collective. They are Carver Community Cultural Center, Creative Circuit Studios, Guadalupe Cultural Arts Center, Gemini Ink, Jump-Start Performance Co., Magik Theatre, Teatro Anasi, The Classic Theatre, UTSA Libraries Special Collections and Urban-15. In addition, many individuals have lent their time and talents to the collective including Danielle King, Antoinette Winstead, Dr. Charles Gentry, Dianne Green and many others.
The Carver's Executive Director, Cassandra Parker-Nowicki, talked to ArtScene SA about the festival.
"This was a collaborative effort from the beginning. The seed of it was really planted in a conversation I had with Danielle King back in 2017. We were thinking about the city's tricentennial and what stories were being told — or not being told, as the case may be. We started talking about those who were really brilliant in sharing stories about individuals and communities in San Antonio who aren't often represented, and we thought of Sterling Houston.
"It just really snowballed from there. Everyone we reached out to was supportive and enthusiastic about the idea. It just grew and grew, and more individual organizations wanted to produce things for the festival. The Classic Theatre and Magik Theatre came on more recently, and I think that's a testament to how excited the theater community here is about this festival.
"Obviously, the Classic didn't exist when Sterling was still with us, but they were really excited to produce the 24-Hour Play Festival within the festival. And with Magik, it was important that we produce something that hadn't been seen in a while, and there's a whole generation of San Antonians who aren't familiar with his work," she continued. "It was important to find a way to not only introduce new audiences to Sterling and his work, but also to find a way to support the creation of new work, because that was important to him.
"It had been our intention all along to have a process by which new work could be created and showcased."
After a grand opening that was held last Saturday, the festival will continue through June 19, with events taking place at various venues throughout San Antonio. It will include an offering of performances, workshops, panels and social gatherings.
The festival line-up includes:
June 9
At 7:00 p.m., Gemini Ink, San Antonio's Writing Arts Center, will present a dramatic reading of Black and Blue: 400 Years of Struggle and Transcendence. One of Houston's seminal works chronicling the African American journey, this performance weaves together historical figures and moments, words of Dr. Martin Luther King, primary sources gathered by Houston, vocals, and music. Presented in readers' theater format, this multifaceted piece features a cast including SkudR Jones, Marcie Edwards Willis, Chris Knox and Danielle King, who is also directing.
After the reading of Black and Blue, Gemini Ink will present a panel discussion and Q&A exploring the significance and impact of Houston and his body of work. Panelists include Dr. Sandra Mayo, Antoinette Winstead, Nan Cuba and Danielle King. The discussion will be moderated by Dr. Charles Gentry. This free public event is hosted in the historic Guadalupe Theater at the Guadalupe Cultural Arts Center, 1301 Guadalupe St. For more information, visit www.geminiink.org.
June 10-11
The Classic Theatre of San Antonio will produce TheatreNOW, a 24-hour play festival -within-the-festival inspired by Sterling Houston's participation with the Theatre ASAP project formerly hosted by San Antonio Theatre Coalition. TheatreNOW will engage almost 40 different artists to present five 10-minute plays that will be written, rehearsed, and presented to a live audience within one fast-paced, 24-hour period. Provided a randomly selected quote from Houston's work, playwrights will write throughout the night and have their original script handed over to directors and cast members the next morning. Rehearsals will take place the next day and this high-octane project will culminate in a one-night only performance that same evening.
This event is free and open to the public. TheatreNOW will be held at Northeast Lakeview College at 1202 Kitty Hawk Rd, 78148. Visit ClassicTheatre.org for more information and event reservations.
June 13-17
Magik Theatre will host a week-long playwriting camp for teens entitled Frankenstein PlayLab: The Vision of Sterling Houston. Inspired by Sterling Houston's play Le Griffon, a re-imagining of Mary Shelley's Frankenstein, students will rewrite this classic tale in their own voices and produce a short play to be showcased prior to performances of Le Griffon. Camp runs June 13-17 from 9:00 a.m.-3:00 p.m. Tuition is $75 per student. Scholarships are available. For more information or to register, call (210) 227-2751 or visit magiktheatre.org.
June 17-19
Jump-Start Performance Co. presents Sterling Houston's play Le Griffon: A True Tale of Supernatural Love. Houston set his interpretation of the Frankenstein story in and around the New Orleans of 1803. Using body parts from deceased men of color, a white man creates a "creature" who, as he becomes more human, experiences violence, love and grace.
Steve Bailey, who directed the premiere of Le Griffon at Jump-Start Theater in 2000, returns to San Antonio to direct and reimagine this feature production of the festival. Performances are at the Little Carver located at the Carver Community Cultural Center at 226 N. Hackberry. June 17 and 18 at 8:00 p.m. June 19 at 3:00 pm. For information about the performances or admission, visit  jump-start.org or call (210) 227-JUMP (5867).
June 22
Urban-15 presents Silence Be Unheard: A Listening Party — the Lost 70's Cassettes of Sterling Houston. The festival wraps up with this special event paying homage to Sterling Houston's musicality and time as front man for The Fleshtones — a high-concept, theatrical rock band that toured the Bay Area in the 1970's. The event will be held at the Urban-15 Studios at 2500 S. Presa, 78210. For more information or to RSVP, please email events@urban15.org or call (210) 736-1500.
UTSA Libraries Special Collections, which holds the Sterling Houston Papers in its collection, is an invaluable partner in the SHF Planning Collective, providing access to the archives and digitizing media materials. Special Collections has created a video compilation of artifacts and recorded interviews with Sterling, that will be featured at events throughout the festival along with pop-up exhibitions of artifacts from the collection. To access the archives, visit Sterling Houston Papers.
Visit www.sterlinghoustonfestival.com to stay up-to-date on these featured events and other festival offerings.
Feature photo: Sterling Houston fronts the Fleshtones (UTSA Libraries Special Collections).