Review: 'A Christmas Carol: the Musical' at the Woodlawn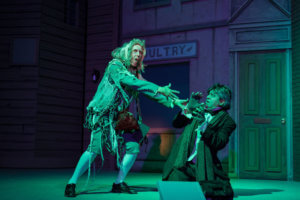 The Woodlawn Theatre's production of A Christmas Carol is the 1994 musical adaptation written by Mike Ockrent and Lynn Ahrens. It's a solid staging that's not afraid to embrace the darkness inherent in Charles Dickens' classic tale of redemption. After all, this is a ghost story.
But it has its lighter moments as well, thanks to a lively score with lyrics by Ahrens (Ragtime) and music by Alan Menken (Disney's Beauty and the Beast).
The Woodlawn's excellent cast is well-directed by Ronald Watson. Isidro Medina is an appropriately irascible Scrooge. Travis Bulen is a compassionate Cratchit, and young Nicholas Duke is affecting as Tiny Tim.
Other notable performances include Jessica Roberts (Mrs. Cratchit); Ray Seams (Fezziwig); Ana Hernandez (Scrooge's mother); Sami Serrano (Emily); Brandon Escobedo (Scrooge's nephew); Phoebe Reilly (Fen); Antonio Flores (Scrooge at 18); and Ryan Juarez (Scrooge at 12).
The actors portraying the spirits provide especially creepy fun. Michael Cooling's chain-rattling Ghost of Jacob Marley performs a delightfully macabre "Link by Link," and Jillian Sainz literally soars as the Ghost of Christmas Past. Bob Galindo, as the boisterous Ghost of Christmas Present, gets a chance to camp it up with the hilarious, high-kicking number, "Abundance and Charity."
The Woodlawn's technical aspects are on point as usual. The five-piece orchestra, directed by Jane Pealor Haas, sounds amazingly rich, and the choreography by Kate Ragan is excellent, especially in the aforementioned numbers. Benjamin Grabill's set, Rose Kennedy's costumes and Brandi Stillwell's makeup bring the milieu of nineteenth-century London to life. Their fine work is supported by Nathan Thurman's atmospheric lighting and Benjamin Farrar's sound and projection design.
A Christmas Carol plays Friday and Saturday at 7:30 p.m. and Sunday at 3:00 p.m. through Dec. 22, with special shows on Thursday, Dec. 12 and Monday, Dec. 23 at 7:00 p.m. at the Woodlawn Theatre, 1920 Fredericksburg Road. Reservations can be made online or by calling (210) 267-8388.
Photos by Siggi Ragnar.