A Rollicking 'Avenue Q' at the Woodlawn Theatre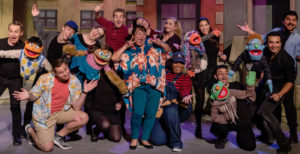 The Tony-winning "Muppets with Issues" musical Avenue Q comes to the Woodlawn Theatre with all of its racy humor intact. Performed by an enthusiastic and talented cast, it features such amusing songs as "It Sucks to Be Me," "You Can Be as Loud as the Hell You Want (When You're Makin' Love)" and "Everyone's a Little Bit Racist."
Financial difficulties force young, fresh-out-of-college Princeton (Caleb Craig) to take a small apartment in the decidedly downmarket neighborhood of Avenue Q. There, he meets Kate Monster (Morgan Clyde), who longs for romance; Rod (Bradley Freeman Jr.), a rigid Republican investment banker; and Nicky (Michael Parisi), Rod's lazy roommate.
Also living on the avenue are Brian (Chris Fuglestad), an aspiring comedian; Christmas Eve (Jenn Harris), Brian's no-nonsense fiancée; and Trekkie Monster (Isidro Medina), a peculiar creature who spends every day surfing the internet for porn. With no explanation offered, the building's superintendent is former child star Gary Coleman (Amanda Ramirez). There's also a couple of Bad Idea Bears (Elise Lopez and Nick DeGraw) who pop up to cheerfully encourage the other characters to make wrongheaded decisions. It's whimsical and hilarious.
The Woodlawn's production looks and sounds terrific, courtesy of Benjamin Grabill's set design, Benjamin Farrar's sound and Chris Muenchow's lighting. Jaime Ramirez provides the sprightly musical direction.
The show is well directed by Mark McCarver, who made a good observation: "When Avenue Q premiered in 2003, it attempted to reach out to twenty-something Americans who found themselves in a crisis of identity. It aimed to hit the wide middle-class gap into which fresh college graduates were falling. If anything, 2018 has made Avenue Q more relatable, following a decade-old economic crisis that still stings, and a political climate that has left the millennials and older out in the cold."
Avenue Q plays Fridays and Saturdays at 7:30  p.m. and Sundays at 3:00 p.m. through Nov. 4 at the Woodlawn Theatre, 1920 Fredericksburg Road. Tickets can be obtained online or by calling the box office at (210) 267-8388.
Feature photo by Siggi Ragnar.