A Spectacular 'Disney's Newsies' at the Public Theater of San Antonio
Based on the 1992 film of the same name, Disney's Newsies tells the true story of the New York paperboys' strike in 1899, when groups of street urchins took on publishing the magnate Joseph Pulitzer when he tried to raise their price for the newspapers they needed to sell each day to survive. With music by Alan Menken, lyrics by Jack Feldman and a book by Harvey Fierstein, it was adapted for the stage in 2012 and won several Tony and Drama Desk awards. Though the touring show has come to San Antonio before (to the Majestic in 2015), this is the first home-grown production — and what a production it is.
Newsies represents a new high for the Public Theater. It's a mammoth undertaking with a cast of almost 40 members, a plethora of musical numbers and incredibly energetic dancing, choreographed by Courtnie Mercer with the assistance of Ballet San Antonio, which is also serving as co-presenter. Directed by the Public's CEO/Artistic Director George Green, the show brims with energy, and it quite deservedly impressed audience members at the sold-out performance I attended last Sunday.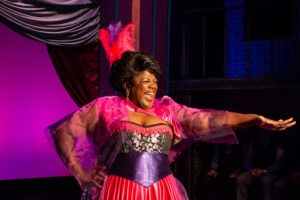 The performances are superb. Three of the Ballet's members appear in the show: Jack Lennon, who performed assistant choreographer duties, as well as Alexander Allen and Ryland Acree, who serve as dance captains. Also impressive in key roles are Chaz Ingraham as Jack, the newsboy who starts it all; Chelsea Levalley, the reporter who covers the strike and wins Jack's heart; Danielle King as Medda, the burlesque queen with a heart of gold; and Byrd Bonner as Pulitzer.
The technical credits are as high-level as the performances. Andrew Hendley's six-piece orchestra sounds bigger than ever. Noel Jordan's 19th-century costuming looks terrific, as does Jeremy Whittington's scenic design, a combination of physical set and projections. The lighting by Dan "Doc"Heggem and sound design by Jesse Worley are the icing on the cake. This is a professional, Broadway-quality production in every respect.
Disney's Newsies plays Fridays and Saturdays at 7:30 p.m. and Sundays at 2:00 p.m. through Oct. 14 at the Public Theater of San Antonio, 800 W. Ashby Pl. Tickets are available online or by calling the box office at (210) 733-7258.
Feature photo by Siggi Ragnar.