Reminder: The Tejano Conjunto Festival Music Starts Friday
The music starts Friday!
The 41st annual Tejano Conjunto Festival en San Antonio will be held May 19-21, 2023, with events at the historic Guadalupe Theater in addition to Rosedale Park. This event is the first and longest-running conjunto festival in the country and is internationally recognized as the most significant event for this popular Texas musical tradition. The highlight of the 41st annual Tejano Conjunto Festival is the opportunity to hear the best in Conjunto music from all across the many different styles played across Texas.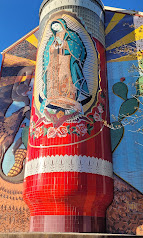 The main line-up for the 41st annual Tejano Conjunto Festival will feature three days of the best in conjunto music. On Friday, May 19, the festival kicks off with Joe Zimmerle y Su Conjunto, Los Tellez, Javier Solis y los Unikos, Ruben de la Cruz and Ruben Garza, the South Tx Homies, and Ricky Naranjo y Los Gamblers.
On Saturday, May 20, the festival features Conjunto Cats, Isaac De Los Santos y La Sangre Chicana, Jesse Gomez y Los Chachos, Ricky Guzman y Los Tres Ases, Conjunto Baraja de Oro, Los Cucuys de Rodney Rodriguez, Los Fantasmas del Valle, Los Monarcas de Pete y Mario Diaz, Lazaro Perez y su Conjunto, Los Garcia Brothers, and Tony Tigre Saenz y La Rosa de Oro.
On Sunday, May 21, the Tejano Conjunto Festival finishes with Cindy Ramos y su Conjunto, Grupo Azido, the Tejano Boys, Los Badd Boyz Del Valle, Santiago Garza y Naturaleza, Flavio Longoria and the Conjunto Kingz, Edgar Vasquez y Sus Muchachos, Eva Ybarra, Los Texmaniacs featuring special guest Flaco Jimenez, and Boni Mauricio y Los Maximos.
On Saturday and Sunday, the festival will also feature special performances by student conjuntos from the Rio Grande Valley and San Antonio.
"The Tejano Conjunto Festival has become an important tradition in the cultural and artistic life of the city of San Antonio, and much like conjunto music itself, continues to serve as a powerful symbol and popular expression of Tejano/Chicano culture, identity and empowerment" said Juan Tejeda, the first Xicano Music Program Director of the Guadalupe Cultural Arts Center and founder of the Tejano Conjunto Festival en San Antonio.
Tickets for the Tejano Conjunto Festival en San Antonio 2023 are $45 for a weekend pass at Rosedale Park. Tickets are available online and in-person at the Guadalupe Latino Bookstore (Historic Progreso Pharmacy Building), 1300 Guadalupe St., Latino Bookstore hours are Tuesday through Saturday, 10:00 a.m.to 4:00 p.m.. The Latino Bookstore will be closed on May 19-20.
More details about the line-up, tickets, and other information are posted on the Guadalupe Cultural Arts Center webpage at https://guadalupeculturalarts.org/.  For questions, contact: conjunto@guadalupeculturalarts.org.
Feature photo: Eva Ybarra.