Exclusive Interview: The Harlequin's Shawn Kjos on "We Need a Little Christmas"
Opening this Friday at the Fort Sam Houston Theater is We Need a Little Christmas, a holiday-themed musical revue written and directed by the Harlequin's Operations Manager Shawn Kjos. "This is the 35th original show I've written specially for the Harlequin," Kjos said. "It's amazing. It feels like we were doing the 25th show only yesterday."
We Need a Little Christmas is certainly appropriately named, since the pandemic has left people feeling like they've been missing Christmas for a couple of years. "I don't think anything could be more true right now," Kjos continued. "These last couple of years just seem a blur, almost."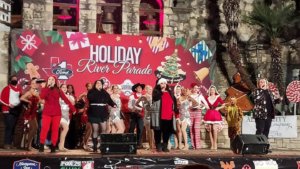 Kjos is honored that he and his cast were able to perform at last Friday's Holiday River Parade, another indication of a return to normalcy after the cancellation of last year's event.
"I think they said it was televised to over a million people," he added. "I'm glad I found out after the fact. It was so exciting to see the city alive again. I think everyone is ready for some Christmas, you know?
"There are so many beloved Christmas songs. With this show, I touched on all of the classics that everybody knows and loves…to bring back that Christmas nostalgia and childhood. I want everyone to come into the theater and just forget about the outside world for two hours. Leave it all at the door and just have a good time."
The show is comprised of more than 30 songs, including such standards as "Blue Christmas," "White Christmas" and "I'll Be Home for Christmas." Kjos points out that there is also a religious section featuring "Ave Maria," "O Holy Night," "The First Noel" and "What Child Is This?". There is also a "Winter Wonderland" section that includes "Baby, It's Cold Outside," and the aforementioned song. Contemporary songs from such artists as Sia, Blake Shelton and Gwen Stefani are also performed. "They're sprinkled in," said Kjos. "It's just a lot of fun. It's Christmas!"
"The cast is phenomenal," said Kjos. "Melissa Dean has done probably 18 or 20 of my shows, and Katie Molina, who is everybody's favorite. She's done so many of my productions, and she's so talented. And Sami Serrano Bassig — I saw her in The Music Man at the Woodlawn and fell in love with her voice. I am honored that she's doing our show. Nick DeGraw is just phenomenal. That boy can sing his face off." Kjos said that they worked diligently to perfect the harmonies that the Harlequin is know for. "I'm gonna humble-brag, but I do feel that we have the best vocalists in the city," he added.
The show will once again be at the Fort Sam Houston Theater. "This is our fifth show there," he said. "And it's been so amazing to be able to perform in that space. It's the sister theater to the Majestic and the second-oldest theater in the nation."
Since COVID-19 safety measures are still in place, the theater allows for social distancing. "We do open seating, but we skip every other row and allow for spacing between the groups," he explained. "The base has its own CDC as well, so we also run by their official guidelines. It's very safe. Everything is sanitized repeatedly. We don't want anyone to worry or feel uncomfortable because of COVID."
This year, for the first time, the show will be presented as a matinee at 2:30 p.m. on Sunday, Dec. 19. "This is for kiddos," said Kjos. "We're having Santa and Mrs. Claus come out before the show, and we have a special set-up to do social distance photos with Santa. There will be cookies and hot chocolate. With every adult ticket price, you'll get a free children's ticket. We wanted to do something special just for the kids. We're going to change the show up a little bit and add some cartoon songs. Adults will like them, too!
"If it goes well, we'll continue having matinee shows for our upcoming productions, so we'll see how it works."
We Need a Little Christmas plays Fridays and Saturdays Dec. 3-18 at 8:00 p.m. with a special 2:30 matinee on Sunday, Dec. 19 at the Fort Sam Houston Theater, 2472 Stanley Road. All civilian reservations must be made by Tuesday at noon to gain gate access for the weekend shows. Military and DOD cardholders do not need to make a reservation. For more information, call (210) 222-9694.
Feature photo (l-r): Katie Molina, Shawn Kjos, Sami Serrano Bassig, Nick DeGraw and Melissa Dean.