Exclusive Interview: Claudia de Vasco of the Public Theater of San Antonio
Claudia de Vasco, whose appointment as the new Executive Artistic Director of the Public Theater of San Antonio was announced this past summer, comes to the Alamo City from Los Angeles. Although she was born and raised in Houston, she brings considerable theater and leadership experience from her work all over the country to this position in order to guide the Public in a new direction.
In fact, just a week into the job, Ms. de Vasco has already made her presence felt. She thought that Plaid Tidings, the Christmas production originally scheduled for this month, featured songs that she considered culturally insensitive. "Immediately, I thought, 'Oh no, this is incredibly problematic,'" she told Kens5. "And it's a subtle problematic, because it flippantly treats various cultures. It kind of just makes them a joke, with no artistic merit."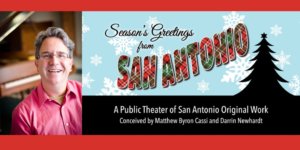 The rest of the company agreed with her. Their first option was to cut the insensitive songs, but the show's publishers balked at the idea.
Instead, they decided to go in a different direction and Season's Greetings from San Antonio — a new production conceived by the Alamo City's Matthew Byron Cassi and Darrin Newhardt — was born.
Ms. de Vasco has other ideas for the theater's transformation as it looks to the future. She took time to answer some questions for ArtScene SA.
Can you tell us about some of the new initiatives and changes that will be happening at the Public?
There will be some new things we will announce in the new year. Definitely, when I was brought on, it was clear to me that hearing stories about what the theater had undergone in the past year or so that it's at a transition point, trying to reconnect with communities and people that it had burned bridges with or never tried to connect with in the first place. It was clear to me as I was interviewing that they were looking for someone to help them do that.
It's not something that just the Public Theater is doing right now. It's very common in theaters all over the west. Certainly, it's part of the conversation in Los Angeles, and I hear it from my colleagues in the Twin Cities. It seems that nationally theater is going through this transition. What's next? This new generation goes to the theater very differently than the past, and I'm part of that millennial generation.
What does that look like? As the country becomes more and more diverse, constituencies like the Latinx community — that has such influence on the economy and buying power. What does that look like for the arts in general, specifically the theater? Especially in a city like San Antonio, where the majority is made up of a Hispanic composition.
San Antonio has always faced the challenge where there's a certain theatergoing public and there's a non-theatergoing public that needs to be reached.
Exactly. All of that is cultural change, right? We can put money into marketing and try to do different shows, but it really is a long-term process of community organizing and community outreach. It seems like a small goal, but it takes a long time, and long-term planning.
What do you think of the line-up of the shows scheduled for the 2021-22 season?
I appreciate the line-up because it's clear the staff chose it at a time when there was no artistic leadership. They were trying to create a line-up that was more diverse than what had been done in the past. Individually, I really appreciate the shows. As a story, as a whole, I do think it's been an effort to try to get folks to buy into the whole series and to understand how all these pieces connect to each other, and what we're trying to do.
It's tricky for me, because I'm coming in at the start of this season. The season I pick won't come until almost a year from now. What we're doing now is to try to produce high-quality shows that folks still like to see, especially as they're getting more comfortable with coming back into the theate
r.
And the COVID-19 safety measures are still in place?
Yes, definitely. What folks don't realize is that the measures are dictated by the union. There are certain things that we can control, but others are dictated by the union. Since we are a union house, we have to abide by them in order to produce at all.
Most recently the union required that we test all staff three times a week. We're happy to do whatever we need to do to keep the audience and the artists safe. We may always have to face what COVID looks like in our daily lives and how it transforms theater's future.
So the 700th production, right?
Yeah! The one thing we talked about was theater history, and not just in San Antonio but in the region. When the Public was first established over 100 years ago as a center, regionally and internationally — for theater and opera, as I'm learning as I uncover the history. To know that this institution as been around — the building has been around for so long. To have produced 700 productions in that space is quite amazing.
Have you seen the wonderful pictures in the theater archives?
Yes! We're actually going to be sharing some of the things in the archive on social media. I love old buildings. Especially when contemporary art is still being produced inside.
Follow the Pubic Theater of San Antonio to see what develops. Get your tickets for Season's Greetings from San Antonio here. Watch the Public Theater of San Antonio's Facebook page for history.