Theater Review: 'Men on the Verge of a His-panic Breakdown' from Teatro Audaz
Men on the Verge of a His-panic Breakdown, written by Guillermo Reyes, is a serious of comedic monologues from 1994 that paints a portrait of the lives of Latino immigrants who are trying to find their way in America. This culture shock is referred to as a "Hispanic Breakdown." It is being streamed this coming weekend by Teatro Audaz.
The numerous characters in the piece are colorfully portrayed by Ivan Ortega, Fernando Vieira, and Jai Gonzalez Quintero. The production is confidently directed by Matthew Byron Cassi and Abe Ramirez,and this is another instance in which streaming adds a special intimacy that the stage simply can't provide.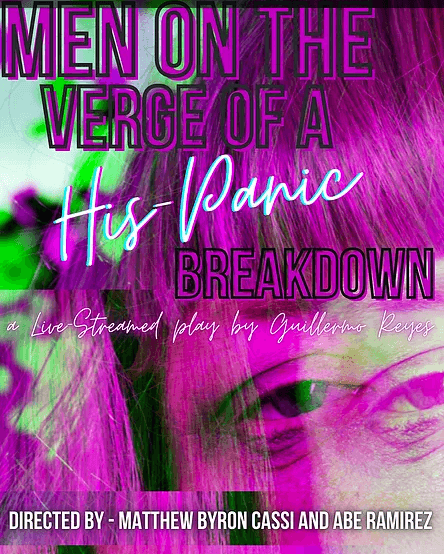 Since the show takes place in the 1990s, it has a kind of "time capsule" feel to it. But the characters still ring true. Framing the story is young and undocumented Federico, who arrives in Los Angeles during the Rodney King riots — and thinks that a sequel to Lethal Weapon is being filmed! He's come to town to reconnect with the American men who enjoyed his company when they were vacationing in Mexico, but now seem to want nothing to do with him. He provides welcome humor to the story, especially when things become dark.
Other characters include La Gitana, the flamenco drag queen who is dying of AIDS who is determined to give a last performance. And Vinnie, a "kept boy" who's being thrown out by his sugar daddy because he's now 30.
Reyes' show has held up quite well after nearly 30 years, and as the press notes say, "Some of the characters seem to be hanging onto their American existence by a thread, but make no mistake, these are tough, tenacious men."
Men on the Verge of a His-panic Breakdown streams Thursday, Friday and Saturday at 7:30 p.m. and Sunday at 2:00 p.m. Streams can be purchased here.
Cover photo: Jai Gonzalez Quintero and director Matthew Byron Cassi.