San Antonio Film Festival Breaking News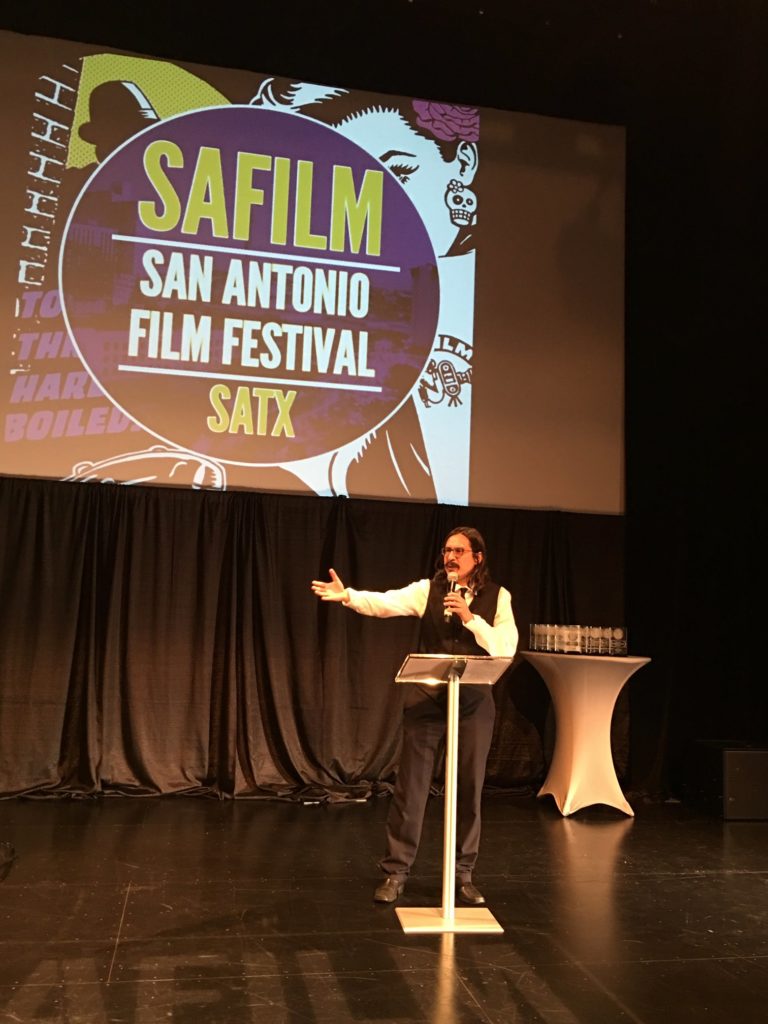 The San Antonio Film Festival (SAFILM) is rolling out the red carpet to welcome film legends to its 24th annual celebration of cinema. It will be held Wed., Aug. 1 through Sun., Aug. 5 at the Tobin Center for the Performing Arts.
Producer Fred Roos will in attendance, bringing three new feature film comedies for SAFILM-goers to see before the nationwide release: Benched, Stella's Last Weekend and Making Babies.
Roos is best known for producing Francis Ford Coppola/Sofia Coppola masterpieces like Apocalypse Now, The Godfather Trilogy, The Outsiders, The Virgin Suicides, The Bequiled, Marie Antoinette, Lost in Translation and many more.

World Premieres
Several comedy features are making their world premieres at the festival:
STELLA'S LAST WEEKEND, by writer/director Polly Draper (Thirtysomething) starring Draper along with her sons Max & Alex Wolff, who have fallen in love with the same girl. It screens Sat., Aug. 4 at 9 p.m. TRAILER (pw: stella)
BENCHED, directed by Robert Deaton & George Flanigen (in attendance), starring John C. McGinley & Garret Dillahunt as baseball coaches to a bunch of mismatched kids who lead the league in errors & strikeouts. It screens Thurs., Aug. 2 at 1 p.m. TRAILER
MAKING BABIES, directed by Josh Huber (in attendance), starring Eliza Couple, Steve Howey, Ed Begley Jr., After "manually" trying to conceive, John and Katie put their bodies, wallet and marriage through the wringer of modern infertility treatments. It screens Sun., Aug. 5 at 4 p.m. TRAILER
Legacy Award Honoree Jesse Borrego
SAFILM honors local legend and actor Jesse Borrego with the Legacy Award at the annual Awards Ceremony on Sat., Aug. 4 at 6 p.m. hosted by Master of Ceremonies Dave Rios of KONO 101.1 FM. Borrego films will screen all week, including his directorial debut, Closer to Bottom on Sun., Aug. 5 at 6 p.m. Tecumseh: The Last Warrior screens on Wed., Aug. 1 at 6 p.m. Follow Me Home will be shown on Thurs., Aug. 2 at 9 p.m. Bienevendo-Welcome on Sun., Aug. 5 at 2 p.m.
The world premiere of Colossal Youth, featuring young Hollywood stars Riker Lynch, Kimmy Caruso and Troy Osterberg will screen on Fri., Aug. 3 at 9 p.m. with a meet and greet/autograph signing at 7 p.m. in the Tobin Center lobby.
Free Seminars
The 2018 festival also includes FREE filmmaking workshops/educational panels with industry professionals:
DIY: Guerilla Filmmaking, Fri., Aug. 3 at 11:30 a.m. featuring powerhouse women in film Melissa Dalley (Assistant Director/Production Manager); Tracy Frazier (Film and TV Producer, Director); Jennifer Kuczaj (Creative Executive/Producer); Elizabeth Mims (lead programmer Austin Film Festival, Filmmaker); and Michelle Randolph Faires (Producer/Director/Crowd-Funder).
A Conversation with Michael Jablow, Sat., Aug 4 at 9:30 a.m. featuring American Film Institute Professor and veteran Hollywood Film Editor (Old School, Throw Momma from the Train, The Naked Gun) Jablow, who guides us through the process of creating Billy Crystal's HBO film, shot by legendary cinematographer Haskell Wexler, nominated for 12 EMMYs.
Showcasing the best in film from over 24 countries, this year's five-day festival brings over 150 world-class movies to San Antonio, including 31 features and documentaries as well as more than 120 short films including a HOMETOWN HEROES block with films by local San Antonio filmmakers on Fri., Aug. 3 at 7:00 p.m. and a HIGH SCHOOL SHORTS block on Saturday, Aug. 4 at 1:00 pm, plus filmmaker socials, nightly after parties and more.
Individual screening tickets are $11-$16. All-Access VIP badges, Weekend and Day badges are also available at www.TobinCenter.org. Full schedule of events: www.safilm.com