Public Theater of San Antonio 2019-20 Season News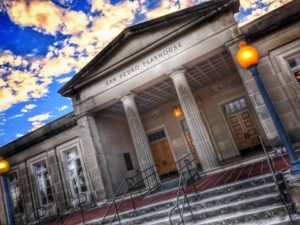 Next season, the Public Theater of San Antonio will be bringing some productions to other area stages in addition to its home base in San Pedro Springs Park.
All Is Calm, the Public's annual holiday offering, will be staged at the Buena Vista Theater on the UTSA downtown campus of the University of Texas at San Antonio this year, from Dec. 12-22. Special screenings of The Rocky Horror Picture Show, featuring a shadow cast and plenty of audience participation, will take place Oct. 25 and 26 at downtown's Bonham Exchange.
The Public returns to the Buena Vista Theater June 25-28 and July 9-12, 2020, for a kid-friendly production of Shrek Jr., based on the hit DreamWorks Animation film and the book by William Steig.
RUSSELL HILL ROGERS THEATER
On its main stage, the Public is presenting a mixture of musical classics and San Antonio premieres.
Sept. 13-Oct. 13, 2019
Mary Poppins
Co-presented with Ballet San Antonio
Based on the Disney motion picture and P.L. Travers' stories, this is the beloved tale of the magical nanny who's "practically perfect in every way."
Nov. 22-Dec. 22, 2019
Elf the Musical
San Antonio Premiere
Another hit film gets the musical treatment. Buddy embarks on a journey to discover his true identity and is determined to win over his new family. This modern-day holiday classic reminds us that the best way to spread Christmas Cheer is singing loud for all to hear.
Jan. 31-Feb. 23, 2020
A Gentleman's Guide to Love and Murder
A distant heir to a family fortune, Monty sets out to speed up the line of succession by using a great deal of charm (and a dash of murder). The doomed heirs meet their end in the most creative and side-splitting ways.
Mar. 27-Apr. 19, 2020
Bright Star
San Antonio Premiere
Written by Steve Martin and Edie Brickell, this is a refreshingly hopeful tale of love and redemption set against the backdrop of the 1920s and '40s American South.
May 15-June 7, 2020
Amélie
San Antonio Premiere
This musical adapted from the 2o01 French film about a shy but imaginative dreamer who finds her voice, discovers the power of connection, and changes her life and those around her.
Jul 10-Aug. 9, 2020
Into the Woods
The beloved Stephen Sondheim James Lapine musical is about some familiar fairytale characters and what happens to them after they live happily ever after.
CELLAR THEATER
The Public's more intimate space is the place for cutting-edge theater.
Oct. 18-Nov. 17, 2019
First Date
A casual drink at a restaurant turns into a hilarious high-stakes dinner. Delightful and unexpected twists, supportive best friends, manipulative exes and protective parents sing and dance Aaron and Casey through ice-breakers, appetizers, and a potential dating disaster.
Dec. 27, 2019-Jan. 19, 2020
The Curious Incident of the Dog in the Night-Time
This profoundly moving play about adolescence, fractured families, mathematics, colors, and lights takes us on a thrilling journey that upturns a young man's world.
Feb. 28-Mar. 22,  2020
Admissions
The head of an admissions department and the Headmaster at a prep school are fighting to diversify the student body. Personal ambition collides with progressive values when their son sets his sights on an Ivy League university. This controversial drama explodes the ideals and contradictions of liberal white America.
Apr. 24-May 10, 2020
Lonely Planet
Two gay men build a strong and lasting friendship during the AIDS epidemic in this moving play.
Jun 12-June 28, 2020
More Better Beautiful
Alice Pring wakes with no recollection of the prior night and finds a stranger asleep in her living room. Elements of noir and romance show the secrets we keep, the lies we tell and the people who accept us in spite of our shortcomings. This is part of the Public's Fresh Ink Project which develops new work.
Aug. 14-Aug. 30, 2020
Fade
Lucia, a young writer, quickly becomes friends with a studio janitor named Abel. As they share stories, similar plots begin to find their way into the TV script. Fade is a play about class, race, and how status does not alter who you are at your core.
---
Ticket pricing information can be found on the Public Theater of San Antonio's website. Current season members will be able to renew their season packages until April 1. General public season package sales will begin April 1.