Holiday Shows at the Guadalupe Theater
Come celebrate the holidays at the Guadalupe Theater with teatro, music and dance.
Sat. Nov. 24, 2018 | 8:00 p.m.
La Pastorela "El Wiwicho Sí Existe"
Spanish Language Performance | Teatro en Español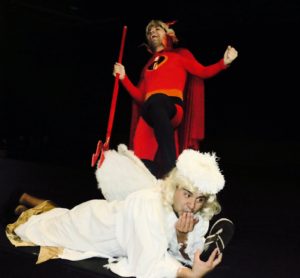 Houston-based Spanish language theater company Happy Medyann, returns to the Guadalupe Theater with their hilarious holiday comedy La Pastorela "El Wiwicho SiExiste," written and directed by Jackie Krienke. This satirical take on the traditional Mexican Pastorela story follows the misadventures of La Chona, a character inspired by the famous India Maria character of Mexican cinema. Woven into the story is some clever commentary on the current issues surrounding immigration (the diablo's name in this story is "Trumpcifer").
Along with an array of small-town characters, La Chona learns what La Navidad is all about and delivers lots of laughs and social commentary with plenty of holiday spirit.

Sun. Dec. 2, 2018 | 12:00 p.m. and 7:00 p.m.
36th Annual Holiday Saxophones
12:00 p.m. Jazz Brunch Matinee  |  $30
( Includes Soul Food Buffet )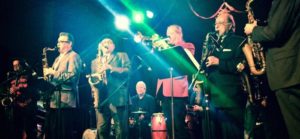 7:00 p.m. Evening Concert  |  $15-$25
( Buffet Sold Separately ) 

Bringing a variety of Jazz, R&B and popular standards, George Prado and the Regency Jazz band lead a line-up of legendary horn players like Spot Barnet, Al Gomez, Joe Posada and Frank Rodarte.
"This year, audiences will have two shows to choose from as we add a special Jazz Brunch Matinee at noon and then welcome patrons for the annual evening concert," says Executive Director Cristina Balli. "Holiday Saxophones is a cultural treasure and we want to make sure that it not only stays alive but thrives. We want to welcome back our beloved patrons who have made this concert a San Antonio holiday tradition as well as invite new audiences who have yet to experience this special night of music."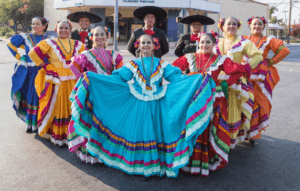 Fri. Dec. 7, 2018 | 8:00 p.m.
Fiesta de Navidad 
Guadalupe Dance Co. | Mariachi Azteca de America
Celebrate the beauty and strength of our Mexican cultural heritage as the Guadalupe Dance Company premieres new choreography from the rarely featured states of Guanajuato, Oaxaca, Queretaro, Sinaloa, Nuevo Leon, Guerrero and Jalisco. Audiences will be treated to an authentic cultural experience through live dance and music by Mariachi Azteca de America.
The historic Guadalupe Theater opened its doors in 1942 when Guadalupe St. first developed into a commercial corridor. Its history encompasses over 75 years of film screenings, theatrical productions, concerts, dance performances, variety shows, and special events showcasing regional, national and international Latin American arts and culture. With its Mission Revival and art-deco architectural design, the 300-seat Guadalupe Theater continues to shine as the jewel of San Antonio's Westside. Each year the theater presents and produces a season of multi-disciplinary offerings in theatre, music, dance and film with a focus on the Latino, Chicano/a, and Native American experience while providing opportunities for both emerging and established actors, musicians, dancers, playwrights, directors, filmmakers and designers to develop their craft and showcase new work.
The Guadalupe Theater is located at 1301 Guadalupe Street. More information and tickets can be obtained on the Guadalupe Cultural Arts Center's website.