Review: The Comedy-Drama 'Welcome to the Men's Group'
Welcome to the Men's Group is the debut feature from co-scripter, director, producer and star Joseph Culp (son of Robert). A bit talky and a bit long, it manages to develop into a rather powerful commentary about the American male's place in contemporary society, courtesy of a sharply observed script by Culp and co-writer Scott Ben-Yashar.
With its frequent scenes of intimate confessions and nerves rubbed raw, it almost feels like a heterosexual version of Mart Crowley's groundbreaking The Boys in the Band.
Each month, a group of seemingly upscale and content Los Angeles men get together to discuss their lives, jobs and relationships. Today, the meeting is taking place at the beautiful new home of the on-edge Larry (Timothy Bottoms).
The other members of the group gradually arrive, including Carl (Steven Tobolowsky), who is displaying some issues of his own, and Eddie (Terence J. Rotolo), whose aggressive display of machismo is a cover for his deep-seated anger.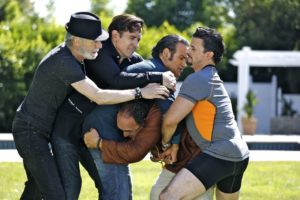 Michael (Culp), the group's founder, brings along a potential new member, Tom (Mackenzie Astin) and things get off to a rocky start when another member Mohammad (Ali Saam) bridles at the appearance of the unexpected newcomer. The first of many arguments breaks out as each man offers his opinion.
A cease-fire is reached long enough for them to share a bountiful breakfast before beginning the "ceremony," and Tom can only watch in bemusement as they open with a chant: "We shall take responsibility for the history of men's violence against women." Then, it's time for each man to speak, which starts the battle all over again.
It becomes clear that this group of supposedly affluent and satisfied men is burdened with plenty of problems — bankruptcy, deceit, marital discord and sex addiction, to name a few. At first, each member's confession is met with sneering retorts from the others, who order him to "man up." As tempers flare and the disputes become physical, Carl makes a radical move that dramatically transforms the meeting's mood.
Buoyed by a strong cast, Welcome to the Men's Group has many high points in spite of its length and verbosity. Bottoms and Culp are solid as the de facto leaders of the group, and the always-reliable Tobolowsky is hilarious as the clearly off-his-rocker Carl. David Clennon is also a delight as Fred, the free-spirited eldest member, who doles out hippie-tinged opinions. Astin's Tom provides a conduit for the audience, as he wears a perpetual "What the hell is going on?" expression as the group carries on.
At times, Men's Group feels like a filmed stageplay (inviting another comparison to Boys), but Culp helps to open it up with flashbacks and animation segments. The cinematography by Monty Rowan and the score by Dan Radlauer are also assets.
Welcome to the Men's Group is available on VOD beginning Friday, Nov. 9, 2018.