Nancy Allen: An Appreciation
From the bad girl whose cruel prank prompted a teenage holocaust to the police officer who was a faithful partner to Robocop, Nancy Allen has played memorable characters in a number of films that have earned proper cult status.
And look at the list of directors she's worked with — De Palma, Spielberg, Zemeckis, Verhoeven, Ashby and Bartel. A formidable line-up to be sure, and some genre classics among the misfires.
Her earliest appearance was as Jack Nicholson's nervous date in The Last Detail (1973), but everyone remembers her first major role as the Wild Cherry Lip Smacker-flavored bitch Chris Hargensen in Brian De Palma's Carrie (1976).
Partnered with John Travolta as douchebag boyfriend Billy Nolan, Chris is the school's mean girl, but she gets her share of abuse, too, which exacerbates her cruelty. Allen's naturalistic acting style complements the character and makes her a recognizable human being. She's catty and mean, but able to turn on an intense sensuality to manipulate others. Nancy also had no problem with nudity, as demonstrated in the opening sequence.
Next up was the Robert Zemeckis film I Wanna Hold Your Hand (1978), in which Nancy played one of a group of Jersey girls who go to New York to see the Beatles on the Ed Sullivan Show. As Pam Mitchell, she displayed a flair for comedy and an appealingly light touch.
Despite the power of Spielberg behind it, the film was a flop when originally released, but has since gained a following. The following year, she was in another bomb, this time directed by Spielberg himself — 1941.
Nancy married De Palma in 1979 and appeared in his 1980 comedy Home Movies, also starring Kirk Douglas, Keith Gordon and Vincent Gardenia. Made with De Palma's students at Sarah Lawrence College, it's an oddball comedy that's a throwback to his 1960s freewheeling films like Greetings (which starred a young Robert De Niro). It didn't find much of an audience, but I rather enjoy it.
A more fruitful collaboration — and re-teaming with Gordon — was 1980's Dressed to Kill, one of several films that prompted critics to compare De Palma to Hitchcock (and not always flatteringly). Nancy is Liz Blake, a high-priced call girl who witnesses the murder of socialite Kate Miller (Angie Dickinson) and helps her teenaged son, Peter (Gordon), catch the killer.
Dressed to Kill is ultra-fetishistic, pretty goofy and loaded with allusions to penises, but some bravura sequences, great art direction and Pino Donaggio's hypnotic score make it all watchable. And Nancy is terrific, although her hooker with a heart of gold seems so damn wholesome and cheery, even when she's talking dirty or describing a sex change operation in graphic detail to the appalled Peter (See? Penis.). But that's what makes her character appealing.
De Palma again confounded expectations (and drew more Hitchcock comparisons) with the 1981 mystery Blow Out. Here, Travolta starred as a movie sound recordist who thinks an accident hat took the life of a politician may have actually been a murder.
Nancy plays the prostitute (again!) rescued by Travolta from the car. The film did not fare well, as audiences who were looking for more Carrie or The Fury-style mayhem were disappointed by this rather more intelligent thriller. Nevertheless, it has its adherents, and it was a bold effort by Travolta to ditch his musical comedy persona and be taken more seriously.
In 1983 Nancy co-starred with Paul Le Mat in Strange Invaders, a follow-up to director Michael Laughlin and writer Bill Condon's superlatively weird Strange Behavior (1981). Meant to be a spoof of the 1950s-style sci-fiers, it lacked the offbeat charm of the earlier film. With such a cast — Diana Scarwid, Louise Fletcher, Michael Lerner, Charles Lane, June Lockhart — it's a shame the film's not better. 1984 brought The Philadelphia Experiment, a time travel story in which Nancy co-starred with Michael Paré. This one's a cult fan favorite, and they're quick to point out her performance as the best in the film.
Sadly, her work for Paul Bartel in Not for Publication (1984) was not the finest hour for either of them. She plays a gossip column writer who gets caught up in a political corruption scandal. Bartel was attempting a His Girl Friday type of farce, but he forgot to include the comedy.
Finally, in 1987, Nancy took what I believe is the best role of her career — Officer Anne Lewis in Robocop. With her trademark blond curls shorn in favor of a more masculine-looking cut, Lewis is a tough little cop who risks everything to help Murphy.
Everything about this movie is firing on all cylinders. The over-the-top action, the great old-school special effects, the nonstop media assault of Fox-style news, ridiculous commercials and idiotic comedy shows…it's scary how many things in Robocop have come true! And Nancy's Lewis is a fully realized character, whether she's whomping on street thugs or giving a helping hand to her robotized partner.
I just watched my super 8 print of the film, which inspired me to write this post.
Unfortunately, she followed up that triumph with another bomb — Poltergeist III (1988), with Heather O'Rourke's Carol Anne going to live in a Chicago high-rise with her aunt (Nancy) and uncle (Tom Skerritt). Only O'Rourke and little Zelda Rubenstein remained of the original cast, and it was a pretty dull effort overall. O'Rourke's tragic death during post production is sadly the most remembered aspect of the film. That — and the fact that characters call out each other's names so frequently that the few people who saw it in theaters see it jeered back at the screen to help pass the time.
Robocop II, directed by Irvin Kershner (who helmed, in my opinion, the best Star Wars film — The Empire Strikes Back), was co-written by graphic novelist Frank Miller (Sin City). It's pulpier than the original but still fun — and certainly violent. Nancy and Peter Weller reprised their roles, but Robert Burke took over as Murphy in the third installment of the series, which I haven't seen.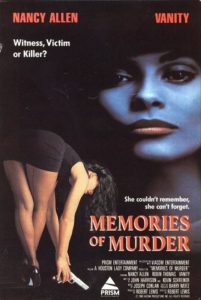 Also in 1990, Nancy had the honor of appearing in the very first Lifetime original movie — Memories of Murder! Critically panned, it nevertheless proved popular enough for a home video release, which hilariously features a picture on the sleeve of a woman bent over to moon potential renters while picking up a gun. And no Nancy! Ah, the good old days of VHS.
Today, Nancy is executive director of WeSPARK, a cancer support center founded by the late Wendie Jo Sperber, Nancy's friend and I Wanna Hold Your Hand co-star. In 2013 the organization hosted a Robocop benefit screening in Hollywood, which featured a Q&A with Nancy, Weller and Verhoeven. I still kick myself for having missed it!