'Mary Poppins' Is a Spectacular Opener for the Public's New Season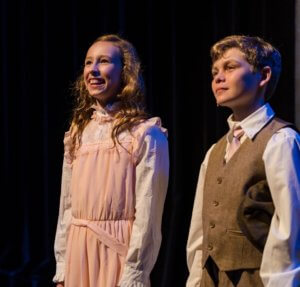 Literally soaring into the Public Theater of San Antonio to open its 2019/20 season is Disney and Cameron Mackintosh's hit Broadway adaptation of Mary Poppins — and it's a delight for the whole family.
Those who are most familiar with the 1964 Julie Andrews classic may be surprised by the approach taken in the stage version. A bit deeper, it places more emphasis on the misbehavior of the Banks children and the chilly way patriarch George treats his family.
But it's still Mary Poppins, after all. The familiar characters and legendary Sherman Brothers songs are all here, along with some new numbers composed by George Stiles and Anthony Drewe. And there's flying!
The Public's production is a lavish one. Directed by the theater's artistic director and CEO, George Green,  it features a cast of nearly 40. It looks sensational, with Green and Jeremy Whittington's scenic design evoking the streets and rooftops of Edwardian London. Dan "Doc" Heggem adds his usual professional lighting, and the costumes by Elisa Bierschenk and Sara Brookes are spot-on.
Hadley Rouse and Chaz Ingraham are excellent as Mary Poppins and Bert, and Josie Feldmann (alternating with Ella Reinhart) and Keaton Kehoe are delightfully precocious as Jane and Michael. Robby Vance (George) and Corina Zars (Winifred) bring depth to their performances. Megan DeYoung adds welcome humor as the perpetually harried Katie Nana before making a 360º turn to portray the Bird Woman in an emotionally-charged performance of the classic "Feed the Birds." Rosa Gardner is also hilarious in her brief but memorable role as the horrible new nanny, Miss Andrew.
The large ensemble cast is terrific, providing excellent vocals and movement, well-choreographed by Courtnie Mercer. Co-produced with Ballet San Antonio, the production also features two of the company's dancers, Alexander Allen and Sierra Cummings. Music director Josh Pepper's seven-piece orchestra supplies the big Broadway sound for such familiar tunes as "Step in Time," "Let's Go Fly a Kite" and, of course, "Supercalifragilisticexpialidocious."
Mary Poppins plays Fridays and Saturdays at 7:30 p.m. and Sundays at 2:00 p,m. through Oct. 13 at the Public Theater of San Antonio, 800 W. Ashby Place. Reservations can be made online or by calling (210) 733-7258.
Feature photo by Siggi Ragnar.