Surreal Thriller 'Seeds' Coming to VOD and DVD Next Week
Dark Star Pictures and Uncork'd Entertainment release a film that "shouldn't be missed" (Horror Fuel). Seeds comes to VOD and DVD Sept. 24. Starring Trevor Long, star of the Netflix drama Ozark, the "heady and unique twist on the Lolita story" tells of a man haunted by his dark past while pursuing some self-care on the New England coast.
"A strong, confident debut, with something original to say" (Film Threat) that is "beautifully-crafted and intelligent" (Cryptic Rock), the "harrowing" (That Moment In) film will be available on digital platforms and DVD September 24.
After a night of debaucher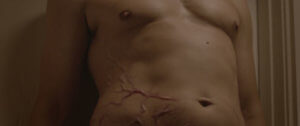 y spirals out of control, Marcus retreats to his family home on the New England coast. His solitude is disturbed when his brother asks Marcus to look after his estranged nephew and niece. As days pass, he begins to feel pursued by a dark force. Is he losing his mind or has something terrible burrowed deep within him? Haunted by his deepest fears, Marcus struggles not to succumb as he fights to protect Lily, his beloved niece, from athe monster that lies in wait.
"It's in your head, under the bed, inside – it must come out," Lily tells Marcus. "You want to be free of it."
Andrea Chen, Garr Long, and Kevin Breznahan star opposite Trevor Long in this film is the directorial debut of Owen Long and was written by first-time screenwriter Steven Weisman.