Interview with John Stillwaggon, Star of 'The Santaland Diaries'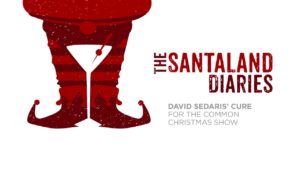 The perfect antidote to relentless Christmas cheer, humorist David Sedaris' cynically hilarious The Santaland Diaries returns to the Classic Theatre Dec. 7 with John Stillwaggon reprising his role as Crumpet the Elf.
Last Friday, ArtScene SA interviewed John in the auditorium of the Classic about his return to Crumpet, his acting technique, and the state of live theater in the Alamo City.
ArtScene SA: How many years have you been portraying Crumpet?
John Stillwaggon: This is going to the the fourth year.
ArtScene: What draws you back to the character?
Stillwaggon: It strikes a beautiful balance. What people know of David Sedaris — that snark and that snideness — is there, but there's a real sweetness to it too. It's sort of a backdoor journey into the meaning of Christmas that comes to him almost against his will. There's real courage, too. While taking a job as a Macy's elf is against his will, at the same time he's game. He's presented with this challenge and says, "All right. Let's give this a try." Along the way, he takes pride in it even though he knows it's ridiculous.
In fact, on some level that's what we all do as actors. The healthiest outlook we can have is to take pride in what we do and do it with all our heart while not being afraid to admit that at times it's ridiculous. Someone who's afraid to look silly is not going to do very well as an actor, either artistically or career-wise.
One other thing that draws me back is that I grew up in New York. I hustled there for a while, trying to make it as an actor. Oddly enough, I was able to build more of a steady career as a full-time actor here in San Antonio. People say, "You can't be a full-time actor in San Antonio!", but I've been blessed, working for the Magik Theatre during the day as well as the Classic, the Public and other places around town.
But in New York, while I was puzzling and trying to make it happen — you do odd little things like being a Macy's elf. Those moments where [Crumpet] talks about his grand plan to be on All My Children or One Life to Live…and now he's an elf. So he has to apply that spirit to something he didn't think he'd need to apply it to.
A friend of mine who's a Yogi says, "How you do one thing is how you do everything." It's just good practice as an artist or a human, that even if you think you're doing something ridiculous, do it with everything you have. Then, when you finally get the gig you want, you need those muscles to be in top shape, those physical and emotional muscles.
ArtScene: Where did you train?
Stillwaggon: I trained at City University at Brooklyn College and got my Master's there in acting. I toured for a while with a national Shakespeare group, then I hustled for a while in New York, getting some gigs, not getting some gigs! After about three years of that, I did the MFA program. It was good. Very practical and applicable. Some training is exceptionally heady and a little too theoretical to be applied on the stage, but this was all very hands-on.
ArtScene: What brought you to San Antonio?
Stillwaggon: My friend Kelly told me that the Magik Theatre was looking for actors to play pirates for a touring company for a few months, and I said, "That sounds great!" So I got in touch with the Magik, and it just sort of took off from there. I got off the plane not knowing what Texas would look like. Certainly not knowing what San Antonio would look like, and I was blown away at how green everything was.
ArtScene: Yeah, where are the cactuses?
Stillwaggon: And the tumbleweeds (laughs)! I couldn't believe it — the rivers, the trees and everything. And I've loved the city ever since.
ArtScene: What do you think of the theater community here?
Stillwaggon: It's grown a lot, and I think it's starting to shake the unfortunate San Antonio syndrome of "It's just us. It's just little San Antonio!" You see the signs that say, Keep Austin Weird," but I've also seen the signs that say "Keep San Antonio Lame." No, you're not! You're a wonderful city, full of history and culture and theater. It's still a smaller theater community than New York, but New York has about eight times as many people. But it's vibrant and there's great work that I 've seen and have been lucky enough to be a part of here that's every bit as good as what's going on in New York. We should really be proud of it.
We are a major theater city, and a city where you can make a living, as I found out.
We should keep holding ourselves to high standards and holding each other to high standards. Sometimes, I've noticed instances of people kind of letting things slide from their actors because, "Well, it's just San Antonio." They think you can't ask for more than that, whether it's learning lines, showing up on time, stuff like that. To me, that's really what's hard to forgive. How much talent you have is one thing, but your approach can always be professional. We are a major theater city, and a city where you can make a living, as I found out. So we should treat ourselves as a major theater city and hold our actors, directors and technicians to that high standard.
It is an exciting time to be here now. We have professional theaters like the Classic, the Magik and the Public. There are also vibrant community theaters and experimental theaters like the Vexler and the Overtime that do great work as well. It's that active and it's that fertile, but it's small enough that you can audition for all of them. You can get your foot in the door and be seen by all the major theaters in town. That's pretty exciting. If you move to New York, how long will it take you simply to be seen by the Roundabout Theater Co.? Here, you have a fighting shot of getting cast. We can have those high standards, but there's still that accessibility.
It's an honor and a pleasure working with my wife, Carolyn, at the Magik. We run the touring department for them and get to tour every day, which is a blast. She's written four plays for them now.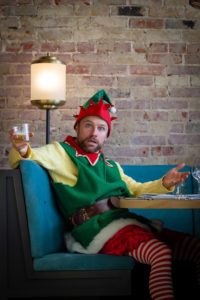 ArtScene: Going back to Santaland, What would you tell people who haven't seen the play to expect?
Stillwaggon: It is a totally different kind of Christmas play. I think it's cathartic, in that it honors the exhaustion we all have during the holidays. The exhaustion that comes with the demands of the holidays and the relentless cheeriness. All the candy canes and the caroling and the smiling — it's okay to be exhausted by that much positive energy, and this play honors that. It's also a real underdog story about this guy scrapping' and trying to make it in New York. It's really funny. Definitely a little rude and crude, but also genuinely sweet and poignant at times.
ArtScene: Who's directing it this year?
Stillwaggon: Bart Roush. It's really fun because we find new little things in it every year. For one thing, the set. Alan [Ross] built the set for the first two years, which was terrific. Then, last year, we were on the set of A Doll's House, which was also a fancy, old-fashioned home, which felt right for a Christmas type of play. And this, of course, (gestures at set for Miss Bennet: Christmas at Pemberley) is right at home.
I think it's going to be terrific, and this is the first year we're going to be doing late night. Usually we do it at the normal classic times, but this year it'll be the nightcap for the first show. I hope so much that people come for Miss Bennet and stay for Santaland. I mean, what a turnaround! Miss Bennet has a powerhouse cast and a great director, but to go from Jane Austen to snarky and silly and very contemporary… I can't wait to see what the late-night crowd is like, between the people who see Pemberley and stick around — the juxtaposition there is so good.
It's such a joy doing this show every year. Finding new things, with a new set. Kelly and Bart and the who.e team are wonderful. It's like a homecoming for me in a lot of ways. Other than Magik, the Classic is the first theater I worked at in town. So to come back to this story and these friends and colleagues, it's a wonderful feeling.
---
The Santaland Diaries plays Fridays and Saturdays at 11:00 p.m. and Sundays at 7:00 p.m. Dec. 7-16 at the Classic Theatre, 1924 Fredericksburg Road. This play contains mature content and is not recommended for children under 18. Tickets can be obtained online or by calling (210) 589-8450.
Photos by Laura Tannenbaum