Interview: John O'Neill, Director of 'The Trip to Bountiful' at The Classic
As part of its 11th season, The Classic Theatre of San Antonio is bringing Texas playwright Horton Foote's classic The Trip to Bountiful to its stage. The poignant drama tells the story of Carrie Watts, an elderly woman who longs to escape a cramped Houston apartment and see her beloved hometown of Bountiful one last time before she dies.
John O'Neill, director of the Classic's production, sat down in the theater's dressing room with ArtScene SA to talk about this production and the play's significance to contemporary audiences.
What's your approach in staging this particular version?
It's comprised of seven scenes in five locations, a challenge for a small stage. So I decided, along with Diane Malone, Kelly Roush and several people on the Classic staff, that we would have the actors themselves change the sets.
There's this very important hymn that Carrie likes to sing called "There's Not a Friend Like the Lowly Jesus." We start with the cast, singing almost like a choir in a small-town congregation, performing that hymn. Before they finish the hymn, they've established all the setpieces and put them where they need to be. That's carried throughout the play. They come out and change sets, sometimes singing and sometimes not.
And then, at the end, we have a little bit more of a musical section — some of the cast calls it Trip to Bountiful: the Musical! We just use that hymn as sort of a throughline.
This is a revised version with one act instead of three, correct? How long does it run?
It should run about 105 minutes. When I compared the revised version with the original, very little changed. What they took out primarily were the intermissions! No scenes were deleted or edited. There was one little bit of business that I couldn't believe they took out — so I put it back in. I won't tell you what it is, though, because it's a spoiler.
Tell us about the cast.
The lead role is Carrie Watts, played by Magda Porter. Her son, Ludie, is played by Steven Starr. His wife, Jessie Mae, is played by Alison Chambers. Three strangers are involved in getting Carrie to Bountiful. Thelma, the young woman she meets in the bus station, is played by Emily Huber. The sheriff who assists her is played by Joe De Mott, and the ticket agent who finds her lost purse is Chad Thompson. We have some ticket agents, played by Hunter Wulff and Chris Miller, and some extra travelers played by Russell Oldmixon and Jana Drew.
How did you work with the actors to help them get to their characters?
I suggested that they look at Texas the way I was envisioning it. I told them to go back and look at The Last Picture Show, the Peter Bogdanovich film from 1971. It's about a small town in Texas that is dying. It has the same flavor. We even considered making the set black and white, but ended up deciding it would be too boring.
The cast is using somewhat Texas sounds, but we didn't want to push that too far because people say, "We don't talk like that in Texas!" So, just a little bit of a drawl here and there — "cain't" for "can't" and "gettin'" for "getting." As the script suggested, just a little Texas flavor.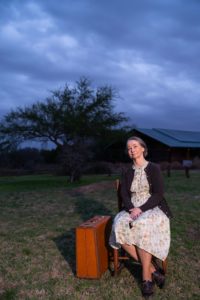 I didn't want to rewatch the [1985 version of the] movie beforehand. I'm a huge Geraldine Page fan, but I didn't want to copy or borrow anything from it. I also believe that Magda is strong enough as her own actress to bring what she does to the role.
What do you hope modern audiences will get out of this production?
Well, I don't want to have everyone leave crying, but I think everyone has a "Bountiful" in them. It's okay to look back. It's okay to cherish things you hold dear. I'm really curious to hear what people will think about the ending. What does Carrie find in Bountiful? Did she find what she was looking for? I think there might be different takes on that.
What other pieces have you been involved in at the Classic?
This is my 14th production at the Classic. I did You Can't Take It With You recently, and I'll be doing The Little Foxes next.
I happen to like The Classic a lot. I like their people; I like their mission. They do everything to make the best theater possible. I've seen A Doll's House many times, but the one they did here was my favorite. Such a fresh take on it.
What do you think about the state of San Antonio theater in general?
Talk about the past… I miss a couple of things. There used to be a summer company at Incarnate Word College. Such an incredible group of actors. They would do two shows a summer. If you were a theater fan, you didn't want to miss those. I also miss Offstage Incorporated, which was run by Judy Jay, who sadly passed away last year. In the summer, you'd go see the two shows at Trinity and the two shows at Incarnate Word.
At the same time, now we've got the Public Theater, which is thriving. We've got the Vexler, which is consistently doing challenging material. Right next door, we've got the Woodlawn, which does musicals and has an amazing kid's program. The Roxie is also active, and the Overtime — they produced my first play. When I retired from teaching, my wife bought me a laptop and said, "Write that play you've always been talking about." With her encouragement, I sent it to the Overtime and, by golly, it was produced!
I couldn't ask for a more active theater community.
---
The Trip to Bountiful plays Fridays and Saturdays at 8:00 p.m. and Sundays at 3:00 p.m. from Feb. 15 through Mar. 10 at The Classic Theatre of San Antonio, 1924 Fredericksburg Rd. Reservations can be made online or by calling (210) 589-8450.
Feature photo: Magda Porter and Emily Huber as Carrie and Thelma (photo: Siggi Ragnar).