Great Films About Childhood (from an Adult's Perspective)
The best films about childhood are typically not made for children. Instead, they're crafted for grown-ups who are trying to recall — or to understand — that mysterious period between infancy and adulthood that shaped them into what they inevitably became.
Three truly remarkable films stick in the memory, and they're listed here in chronological order: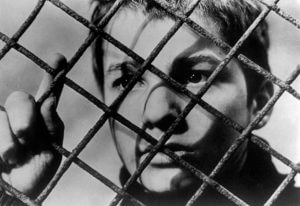 1. The 400 Blows (1959). Francois Truffaut's autobiographical classic increases in stature with each passing year, as its widescreen black and white cinematography delivers a stark vision of Paris far removed from the charming cafés and boulevards seen so frequently in other films.
Jean-Pierre Léaud gives a precocious performance as Antoine Doinel, the only son of an adulterous mother and absent stepfather. His rough treatment at school and neglect at home propel him into a life of petty crime, which causes him to be sent to a correctional institution by his uncaring parents.
This is Truffaut's first feature, and it is certainly an assured début. It's a founding film of the French New Wave of the 1950s and '60s, and, like its predecessor, Italy's neorealistic period from the 1940s and '50s, it emphasizes realism over artifice and authentic locations over soundstages. Who cares if some of the people passing by in the street are looking at the camera? It only serves to drive home the point that the filmmakers are creating a piece about a real human being.
Léaud is memorable as Antoine, who serves as a stand-in for Truffaut as a child. He loves to read Balzac — so much so that an essay he writes at school is deemed plagiarism, leading to more trouble for him. He also spends a lot of time at the movies to forget his miserable life for a few magic hours.
Truffaut would make a total of four Antoine Doinel films: this one, Stolen Kisses (1968), Bed and Board (1970) and Love on the Run (1979). Just like a fictionalized version of Michael Apted's Up documentary series following a group of children from age seven through 49, Truffaut's films follow the life of Antoine from troubled youth to married novelist.
2. My Life As A Dog (1985). Lasse Hallstrom's utterly charming and powerfully emotional ode to childhood is, like The 400 Blows, another film that bears repeat viewing. I first saw it on its U.S. theatrical release in 1987, and I probably watch it every five years or so because it's such a nostalgia piece for me, even though it's not about my childhood.
Anton Glanzelius stars as Ingemar, a young boy living in Sweden with his bullyish older brother and terminally ill mother (Anki Lidén). What she is suffering from is never specified, but it appears to be tuberculosis. Ingemar is very close to his mother and is pained to see her health deteriorate and her ferocious fits of temper when he and his brother misbehave. The other love of Ingemar's life is his dog, Sickan.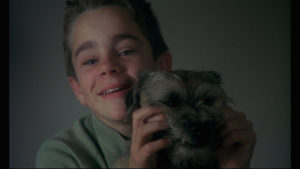 The doctor recommends peace and quiet for their mother to recover, so they boys are sent to relatives in the country to live for the summer, and Sickan is shipped off to a kennel.
Ingemar is sent to to his Uncle and aunt in the rural province of Småland, which is inhabited by a bunch of happy people who also seem to clearly be out of their minds — in a good way. Here, Ingemar gets his first taste of affection and companionship since his mother had become ill, and he revels in it.
When autumn comes, he and his brother are returned to their mother, but it doesn't last long. She is taken by ambulance to a sanitarium where she will spend her last days, although Ingemar doesn't know it yet. He's convinced that she just doesn't want him anymore.
When he returns to Småland, he's distressed to find that nobody there wants him around, either. Another thing that his relatives aren't telling him is that Sickan has (probably) been euthanized. His repeated requests to his uncle to have the dog brought to him are awkwardly dodged, and when the reality of his situation becomes clear to him, his world comes crashing down.
Some critics complain that the Småland sequences are too corny and slapstick to fit in with the sober subject matter of the rest of the film, but I enjoy them — they're a light in Ingemar's otherwise grim life. His uncle is slowly and methodically constructing a summer house on someone else's property while playing a Swedish-language record of "I've Got a Lovely Bunch of Coconuts" over and over again, which drives his wife bonkers.
The elderly Mr. Arvidssen, who lives downstairs, frequently calls on Ingemar to read descriptions out of a women's lingerie catalogue to him and to shoot the next-door neighbor, who is constantly hammering away on his roof. One of Ingemar's classmates has green hair, which is never explained. And the potential romantic interest in his life is Saga (Melinda Kinnaman), a tomboy who disguises her gender and uses elastic tape to hide her developing breasts so that she can continue to play on the boys' football team.
Hallstrom's film is obviously a labor of love. I don't think he's made a film anywhere near as good since, although What's Eating Gilbert Grape? (1993) has its charms. But the real key to Dog's success is the magnificent performance of 11-year-old discovery Glanzelius. With his shaggy eyebrows and impish grin, he's like a Swedish Eddie Munster, but he really carries the film.
3. Léolo. "They say I am French Canadian, but because I dream, I am not. They say he is my father, but I know I am not his son because he is crazy. Because I dream, I know I am not."
By far the grimmest entry here is this 1992 French Canadian film from Jean-Claude Lauzon. The best way I can describe it is as a primal scream about the horrors of childhood. I saw it during its original theatrical release and couldn't believe what I was watching: a shocking — and shockingly beautiful — work of art.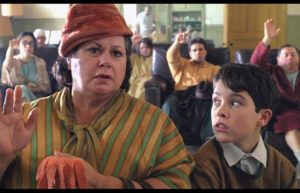 Maxime Collin is Léo Lauzon, a boy who lives with his dysfunctional family in a squalid tenement in Montreal and preserves his sanity by living an active fantasy life in which he is not the son of his father but is in reality Léolo Lozone, the child of a Sicilian peasant, destined to return to his home in the beautiful hills of Sicily.
As I said, Léolo's family is bonkers and they all take turns spending time in the mental hospital, except for his tough, determined and zaftig mother (Ginette Reno). Both she and her husband (Roland Blouin) are obsessed with shit, constantly dosing their children with laxative bombs and making sure their eliminations are full and regular.
That's just the beginning. To clinically enumerate all of the shocking and revolting scenes in Léolo would put it in a category with John Waters' Pink Flamingos, yet it all comes together to become an unforgettable sort of fetid poetry.
There's a sequence in which Léo dives into a filthy river to retrieve tangled fishhooks and re-sell them to the fishermen that becomes, in his mind, a search for a chest full of sparkling treasure.
He calls his plus-sized sister Rita (Geneviéve Samson) "The Queen," and they share secret time in a filthy, vermin-infested space under the house where he gives her his laxatives in exchange for her bowel movements, so he can throw them into the toilet to prove to his father that he's functioning normally.
I know…it sounds absolutely revolting and it certainly doesn't paint a pretty picture of the human condition, but just when you think you can't take any more, Lauzon throws in a scene of stunning grace and honesty that makes you swoon. And if you own Tom Waits' "Frank's Wild Years" album, you've practically got the entire soundtrack already!
Collin is another one of those inexperienced child actors who nevertheless delivered an authentically devastating portrayal. With material like this, it must have been quite a challenge. Did I mention the masturbation scene with the raw beef liver?
Tragically, Lauzon died in a plane crash in 1997, having made only two films, thus denying film lovers the opportunity to see what other kinds of worlds he could bring to us. Nevertheless, Léolo is a devastatingly fitting epitaph.