Agarita Is Performing Two Free Community Concerts on Sunday
Agarita will be traveling this weekend to districts 1 and 6, performing two unique Humble Hall mobile concerts on Sunday, March 27. The outdoor, open-air concerts, featuring classical and contemporary music, are part of a series that is being offered by Agarita in all of the city's ten districts. This weekend's performance will mark the completion of its first round of performances in districts across San Antonio. Music by composers John Williams, Jessica Meyer, Turina, Aaron Prado, Wieniawski, Piazzolla and Bach will be featured. Aimee Toomes Lopez will be joining Agarita as guest violinist.
Bring a blanket or chair and join Agarita, San Antonio's innovative chamber ensemble, for two free outdoor concerts, full of great music in Districts 1 and 6. Friendly to all ages.
Agarita's Humble Hall, the first of its kind in Texas, debuted in December 2020 and provides easy public access to world-class performances while reinventing the traditional concert experience. The concerts are bilingual and open to the public. They last approximately 45 minutes, with no intermission, and include members of Agarita discussing their art with audiences, thereby forging a deeper connection with them.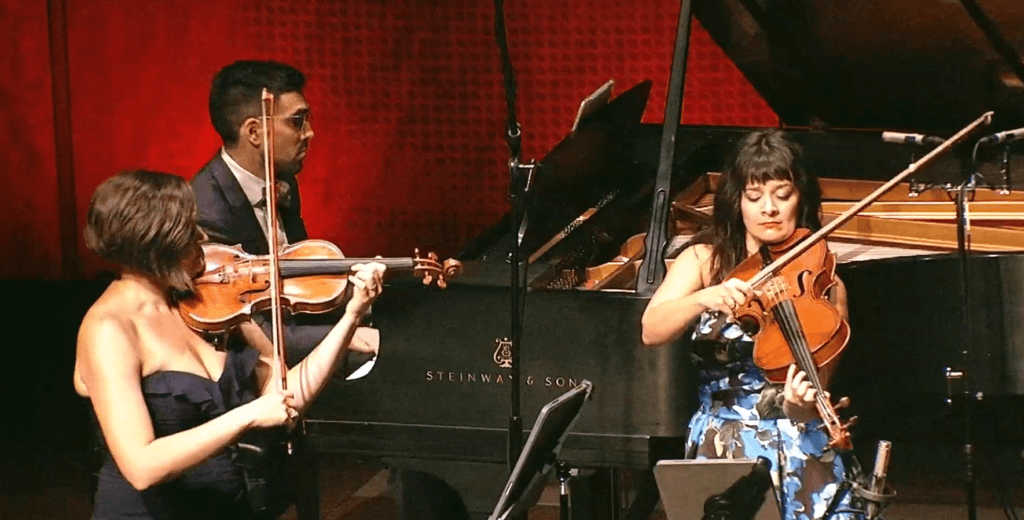 Agarita is an innovative chamber ensemble dedicated to producing bold, collaborative musical events, Agarita offers a new way to experience classical and contemporary music. Rooted in San Antonio and founded by Daniel Anastasio (piano), Marisa Bushman (viola), Ignacio Gallego (cello), and Sarah Silver Manzke (violin), Agarita nourishes the local community through artistic collaborations, community engagement and free, adventurous programming. With concise, eclectic performances that are "splendid – unified, spirited, [and] well prepared" (Greenberg, Incident Light), the young chamber group offers a new, open-armed experience for listeners.
Most recently, Agarita's Humble Hall was voted as one of San Antonio Magazine's most unconventional art experiences in its Best of the City 2022! In 2021, San Antonio Magazine's Best of the City named Agarita as its Culture winner for its collaboration with area partners. It works intimately with local artists of various genres to weave cross-artistic narratives for each concert. Agarita's past collaborations have included the McNay Art Museum's Pop América exhibit, lighting artist Chuck Drew, Cameron Beauchamp from the Grammy Award-winning vocal group Roomful of Teeth, chef Elizabeth Johnson and Pharm Table restaurant, poet Laura Van Prooyen, sculptor Danville Chadbourne, educational arts institution SAY Sí and the Luminaria Contemporary Arts Festival for a concert inside San Antonio's historic Mission San José.
Concert Details
Sunday, March 27
1-2 p.m.
District 6
H-E-B
9255 Grissom Road, San Antonio, TX 78251
Sponsored by the Russell Hill Rogers Fund For the Arts.
5:30-6:30 p.m.
District 1
Beautify San Antonio Park in King William
801 South Main St., San Antonio, TX 78204
Sponsored by The King William Association and The Russell Hill Rogers Fund for the Arts
As a nonprofit organization, Agarita believes that the arts should be accessible to everyone in its community. Agarita presents free public concerts, performs at local schools, and offers opportunities for other artists through its collaborations. Follow Agarita's upcoming projects and future performances at www.agarita.org, on Facebook at @Agaritachamberplayers or on Instagram @Agarita_San_Antonio. For questions, emailagaritachamberplayers@gmail.com.