28th Annual Balcones Heights Jazz Festival Starts Next Week
Tony Saunders and Johnny P & the Wiseguys to Open the City's Long-Awaited Summer Jazz Concerts; Rob Zinn, Jeff Ryan, and Peter White to Headline
The acclaimed Balcones Heights Jazz Festival will kick off its highly-anticipated 28th season next Friday, July 15, and continue with a second concert on Friday, July 29. Each performance will take place at the Amphitheater at Wonderland of the Americas. Headlining will be Rob Zinn and Jeff Ryan on July 15, with Tony Saunders opening. Peter White will headline on July 29 with locals Johnny P & the Wiseguys opening.
"We are excited to feature live jazz concerts again this summer with two back-to-back July performances presenting a stellar line-up of dynamic national and local artists at the beautiful, sparkling Wonderland Amphitheater," said Lorenzo Nastasi, Director of Economic Development and Public Affairs at City of Balcones Heights.
"Balcones Heights' uniqueness is that we are dedicated to providing free family-friendly, high-quality music for all to enjoy," said the city's mayor, Suzanne de Leon. "We are thrilled to welcome the sights and sounds of our signature jazz festival, bringing residents and visitors from all over South Texas to experience our city's charm and hospitality over these two weekends."
The first opener on July 15 will be Billboard recording artist and bassist Tony Saunders. Saunders has had an incredibly multi-faceted career that's found him "vibin'" with everyone from Eric Clapton and David Crosby to Les McCann, Joe Sample and Chaka Khan. Celebrating a decade of hit making since his 2011 San Francisco Records debut titled Romancing the Bass, the dynamic, stylistically eclectic 14-track collection keeps Saunders on what he calls the "joyful ride on the smooth jazz roller coaster," creating a transcendent melodic and rhythmic flow with an all-star array of genre greats.
After his performance, headliners Rob Zinn and Jeff Ryan will kick off their show. Rob Zinn is a multifaceted talent working as a veteran vocalist, trumpeter, and flugelhornist. He is internationally recognized as a smooth jazz artist and composer.
In 2016, Zinn emerged as an independent smooth jazz artist and composer with the release of his debut album, "Yesterday Again," showcasing a multitude of styles including funk, Latin, R&B, rock, pop and urban jazz. In 2018, Zinn released his critically acclaimed album "Walk The Walk," which was selected for the 61st Grammy Ballot for Best Contemporary Instrumental Album with charting success on Billboard and Smooth Jazz Network Top 100.  Zinn has had multiple songs charted top 50 on various prominent jazz outlets and is currently completing his third album, "Anything Can Happen" with producer Paul Brown.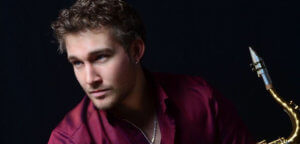 Paired with Zinn will be one of contemporary jazz's top emerging artists and saxophonists, Jeff Ryan. Ryan, an international sensation, has captivated thousands with his robust jazz sounds. "Double Up" was the first single released in May 2020 from his latest album "Duality." It debuted as the number one "Most Added" on the Smooth Jazz Billboard. In 2020, Ryan was also named 2020 Billboard Smooth Jazz Artist of the Year. His second single from this album "Sentimental Soul" landed the number one spot on the Billboard Chart and was later named 2021 Billboard Song of the Year.
Opening the concert on July 29 is Johnny P & the Wiseguys, a velvety ensemble led by vocalist, songwriter and trumpeter Johnny Panzarella. Johnny P is a New York native from a close-knit Italian family. The rat pack-style band plays original tunes as well as innovative musical arrangements of classic favorites. The Wiseguys are composed of multiple talented musicians featuring pianist Travis Davis, bassists Max Garcia Jr. and Doug Bennett, Roger Escobar on tenor sax, David Woodard on trombone, and drummers Johnathan Alexander and Jay "Jaybird" Buried Mitthauer.
Following is headliner and one of the jazz industry's greatest icons, British-born, LA-based guitarist and smooth jazz artist Peter White. This is his third appearance, as White first played for the Balcones Heights Jazz Festival in 2010 and returned in 2015. White is set to give a simmering performance to end the summer concert season. For over forty years, White has worked with many music greats such as Al Stewart and Basia, and was part of the first Dave Koz Smooth Jazz Christmas Tour. White's lyricism and energy is unparalleled and sure to create a beautiful sound for his broad audiences. He has found huge success in his musical career winning multiple awards through four decades working as a multi-instrument musician, performer, and writer with other artists and solo on his own highly regarded albums.
In 2020, the Balcones Heights Jazz Festival evolved from a summer concert season to a year-long concert series, which was adopted pre-pandemic to spread concerts throughout the year. Since 1994, the Balcones Heights Jazz Festival has captivated jazz aficionados from in and around Texas with a free stellar line-up in the festival's laid back and family-friendly atmosphere. Regulars or "jazz babies" grab their favorite spots along the edge of the sparkling reflecting pool and fountains of the city's main hub, Wonderland of the Americas.
The Balcones Heights Jazz Festival is produced through a partnership of the City of Balcones Heights, Wonderland of the Americas, and iHeartMedia. David Muñoz is back again to host as he has at the Jazz Festival every year since the event's inception. Muñoz, known as San Antonio's very own "Jazzman," is serving as emcee and co-producer of the festival. David also hosts "Smooth Jazz San Antonio" on KQXT/Q101.9 HD-2 and iHeart Radio App/Texas Central Region.
General admission to the festival is free and parking is free at Wonderland of the Americas, 4522 Fredericksburg Road, Balcones Heights, Texas. Wonderland of the Americas is located at the intersection of IH-10and Loop 410, just a few minutes from downtown San Antonio, and minutes from the South Texas Medical Center.
Hillside seating around the Amphitheater is on a first-come, first-serve basis. Fans sometimes stake out their spots as early as the Monday preceding the Friday concert! Food and beverage vendors will be on-site. Attendees can also visit the Food Court inside Wonderland of the Americas. No coolers and outside food and beverages are allowed at the Amphitheater.
For more information about the festival, visit San Antonio Central: Balcones Heights | Jazz Festival, and the event's Facebook page.