'Once on This Island' Opens Friday at the Public
On Friday at 7:30 p.m., the Public Theater of San Antonio will premiere its latest production, the Tony award-winner Once on This Island: A Musical, a Caribbean-set retelling of Hans Christian Andersen's fairy tale The Little Mermaid.
Featuring a book and lyrics by Lynn Ahrens (Seussical, Ragtime), music by Stephen Flaherty and based upon the novel My Love, My Love by Rosa Guy. the show plays at the Russell Hill Rogers Theater at San Pedro Playhouse in San Pedro Park through August 7, 2022. It is directed by Danielle King, with musical direction by Jaime Ramirez and choreography by Tanesha Payne.
The story follows Ti Moune, a peasant girl, as she rescues a wealthy boy from the other side of the island, Daniel, with whom she falls in love. Unbeknownst to Ti Moune, the pompous gods who preside over the island make a bet with one another over which is stronger — love or death — the stakes being Ti Moune's life.
When she pursues Daniel, who has returned to his people, Ti Moune is shunned because of her lowly status. Her determination and capacity to love, though, is not enough to win Daniel's heart, and Ti Moune pays the ultimate price; but the gods turn Ti Moune into a tree that grows so strong and so tall, it breaks the wall that separates the societies and ultimately unites them. (MTIshows.com)
With vibrant music and unique theatrical storytelling, this is one of the Public's most ambitious productions to date. Director King was kind enough to answer a few questions about the show and what it will mean to San Antonio attendees.
How will this Tony award-winner from 1990 resonate with contemporary audiences?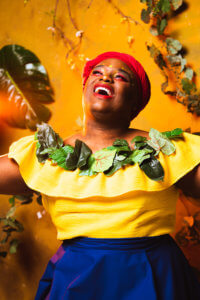 It is especially relevant now as we as a people, our country, and the world is taking a hard look at our history and our treatment of other cultures and their people. I think one of the most important messages in the story is that love is timeless, colorless, and available to all.
This appears to be one of the Public's most elaborate productions in terms of costuming and set design. How complicated was it to coordinate it all?
It took a lot of hard work but working with so many wonderful production creatives on this project and been educational and a blast! All of them brought so many great ideas to the table and have been so accommodating with working to include the vision of others to make the show its best. But we were dedicated and our intention was to stay truthful to ensure we were maintaining the cultural authenticity of the story and its people.
What do you enjoy most about directing a production at the Public?
Working with the greatest cast and crew to bring this story to life has been a thrill! Everyone has been centered on working together to bring the story to life has been a joy to be a part of. And the opportunity to be able to participate in telling this story from this side of the stage has been an amazing honor.
I am truly excited about the future and the direction the Public is headed in with Claudia at the helm of her wonderful new team, and the new opportunities the Public is opening for others to share and tell their stories.
"This is why we tell the story."
Once on This Island plays Fridays and Saturdays at 7:30 p.m. and Sundays at 2:00 p.m. from July 15 through Aug.7 at the Rusell Hill Rogers Theater, 800 W. Ashby Place. As it focuses on some fearful yet very passionate moments, it may be best suited for children who are able to handle such subject matter. However, this gripping and other-worldly story will delight patrons of all ages. Tickets are available online.
Feature photo: Janecia Stevenson* as Ti Moune and Michael Salinas as Daniel.

*Member of Actors' Equity Association, the Union of Professional Actors and Stage Managers in the United States. Photography by Mia Isabella Photography @miaisabellaphotography.