Theater Review: The Shape-Shifting 'If/Then' at the Public Theater of San Antonio
In If/Then, Tom Kitt and Brian Yorkey's Tony-nominated musical from 2013, Stephanie Genito stars as Elizabeth, a recent divorcee who moves to New York to make a fresh start. There, she runs into her friends Kate and Lucas, who encourage her to alter her name to change her outlook. Kate suggests that she be called Liz so that she can start experiencing new things. Lucas thinks she should go back to her college nickname of Beth and start making valuable business connections.
At this point, she becomes both women. The production takes off in two simultaneous directions, depicting the choices that each of them make, and how these decisions alter their lives.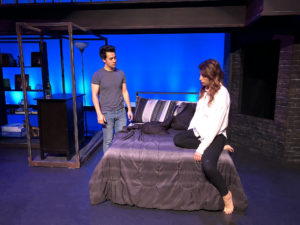 If it sounds complicated, it's not really that tough to follow. Although rapid character shifts occur within single scenes, Genito helpfully dons a pair of eyeglasses when she transforms into Liz. In the piece's most clever conceit, the lives of the other characters in the scenario are also altered, depending on which world they're dwelling in at the time. It's amusingly done, and director Molly Cox does a fine job managing all the shape-shifting.
Genito effectively moves between Liz and Beth, and Nicholas Ponting is affecting as Lucas. Alyssa Lopez is an attractively spirited Kate, and Grant Bryan is also memorable as Josh, the soldier who becomes involved with Liz. Providing solid support is Justin Keown as Beth's coworker and would-be romantic interest, Stephen; Lisa Decker as Kate's girlfriend, Anne; and Robby Vance as Lucas' boyfriend, David. Their singing voices are all strong, backed by the pleasant strains of Josh Pepper's six-piece orchestra. The added voices of the talented ensemble provide a welcome richness to the harmonies, and the choreography by Courtnie Mercer is a plus.
Ponting's attractively minimal urban set seamlessly changes shape to represent the various places the characters are inhabiting (parks, offices, bedrooms), and it's atmospherically lit by Dan "Doc" Heggem. Also fine are the costumes by Cordi Rios and sound design by Jesse Worley.
As has been pointed out by reviewers of the original New York production, many of Kitt and Yorkey's songs are rather repetitive, reinforcing points that have already been clearly made. Sample lyric: "You lose all the choices you don't get to make/You wonder about all the turns you don't take." Still, there are numbers that are bound to hit their mark, especially in the second act when the story becomes more dramatic. And the Public's bright, enthusiastic cast helps immeasurably to put this material across.
If/Then plays Fridays and Saturdays at 7:30 p.m. and Sundays at 3:00 p.m. through Apr. 8 at the Public Theater of San Antonio, 800 West Ashby Place. Tickets can be obtained online or by calling (210) 733-7258.
Photos by Jeremy Whittington.