Texas Renaissance Festival 'Medieval Meltdown' Ticket Deal
The Texas Renaissance Festival, the nation's largest and most acclaimed Renaissance-themed event, announced today that ticket prices will be in a Medieval Meltdown until Aug. 31.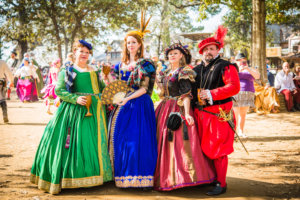 The Medieval Meltdown summer discounts are available exclusively online. Specially-priced tickets to the festival for the first two weekends in October are only $13.17. Daily general admission tickets, which give access to one day of the festival, are also available for advance purchase for $19.74 — a special 45th-anniversary price, commemorating the festival's beginnings in 1974.
Additionally, 2019 camping passes for any vehicle are available for $24.95. Tickets are limited to 15 per order and are subject to applicable taxes and fees.
Opening Oct. 5 and running each weekend through Dec. 1, the 2019 festival will feature food and drinks from around the world, 19 stages of entertainment and music acts, and games and rides for patrons of all ages.
"We're excited to celebrate a major milestone with our 45th anniversary, and this year's festival promises to be bigger and better than ever," said Joe Bailey, CEO and General Manager, Texas Renaissance Festival. "We encourage both seasoned and new festivalgoers to purchase tickets at these greatly discounted prices before they increase on Sept. 1."
The 45th season of the Texas Renaissance Festival will feature nine themed weekends, including Oktoberfest (Oct. 5-6), 1001 Dreams (Oct. 12-13), Barbarian Invasion (Nov. 16-17), Pirate Adventure (Oct. 19-20), All Hallows Eve (Oct. 26-27), Heroes and Villains (Nov. 9-10), Highland Fling (Nov. 23-24) and Celtic Christmas (Nov. 29-Dec. 1). A unique themed weekend on November 2-3, Return to the Renaissance, celebrates the festival's anniversary and takes a nostalgic look back at its roots.
The Texas Renaissance Festival is the nation's largest and most acclaimed Renaissance-themed event. Established in 1974, the event attracts more than half a million visitors each year to its 55-acre recreation of a 16th-century European village. This immersive experience features world-renowned live entertainment, works by master artists and craftspeople, award-winning food and drink, hand-powered rides and games, and more than 100 interactive characters during its nine themed weekends from Oct. 5 through Dec. 1, 2019.
The festival and the adjacent Fields of New Market Campground are located in Todd Mission, Texas, 50 miles northwest of downtown Houston. For more information, visit www.Texrenfest.com.
Photos courtesy Texas Renaissance Festival.