Talking 'Hedwig' with the Director and Cast
Opening on July 11 at Woodlawn Pointe is John Cameron Mitchell and Stephen Trask's Tony award-winning Hedwig and the Angry Inch, starring Roy Thomas as Hedwig and Morgan Clyde as her lover, Yitzhak. Featuring an excellent live band (Jesse James, Alan Miller, Jaime Ramirez, Kristi Tabersmith), it's sure to be an enjoyably rowdy revival of the legendary musical.
Recently ArtScene SA was invited to a rehearsal by Nicole Erwin, whose Aria Creative Productions and Texas Light Opera are presenting this production. We got a chance to interview Thomas and Clyde as well as director Dave Stone-Robb, who all provided valuable insights.
Dave Stone-Robb
Meeting Hedwig

I saw one of the original productions in New York. But it was the 2001 movie that really blew my mind, and I've been a Hed-Head ever since. Around that same time is when Roy and I met. He was looking to do the first version of Hedwig here in San Antonio. I helped introduce him to some of the people who had money. He took off from there and did one of the first productions across the country, outside of New York.
Directing the piece
It's one of my dream shows to do. When it comes to this particular production, I just let Roy, who's far more experienced, do it again. It's more aged; it's more lived-in. I really just give it over to his personal style and let him make it his own. We've updated some of the references to San Antonio so it's a little more local.
What audiences can expect
You can expect some awesome rock and roll music and some in-your-face drag. It feels more like a live rock show. Even people who would think of musicals and be like, "Eeeh! Andrew Lloyd Webber! Head for the hills!" They're not going to be turned off by something like this, because it feels like you're just going to a rock club. This feels more like a touring company coming into town, doing a rock show and moving on.
Morgan Clyde
Becoming Yitzhak
This is the first time that I have been involved in this production in any way. Physically, it's such a different role. I mean, I'm playing a man, and that's not something I typically do as a relatively full-figured woman. So, here we are!
The experience
I'm loving it. It's both entirely in my wheelhouse and yet one of the most challenging things I've done. It's really big, loud rock singing, which is what I enjoy. I don't often get an opportunity to do it.
Finding all the things in the music and script that are challenging to me has been an awakening. At first I thought, "This'll be cool," but then I realized how vocally difficult it is. But it's been a great experience. And I couldn't ask for a better group of people to work with. This band is amazing. Roy is fantastic. Dave is so supportive and encouraging. He's giving just the right amount of input.
The story
The story is universal. It's about a specific experience that not a lot of people have, obviously, But the feelings of trying to find yourself in a chaotic situation, anybody can relate to that. Finding yourself in a world that can't accept who you are — everyone's experienced that on some level. Taking the interactions between the characters; the triumphs, the failures and the heartbreaks. That's the human language.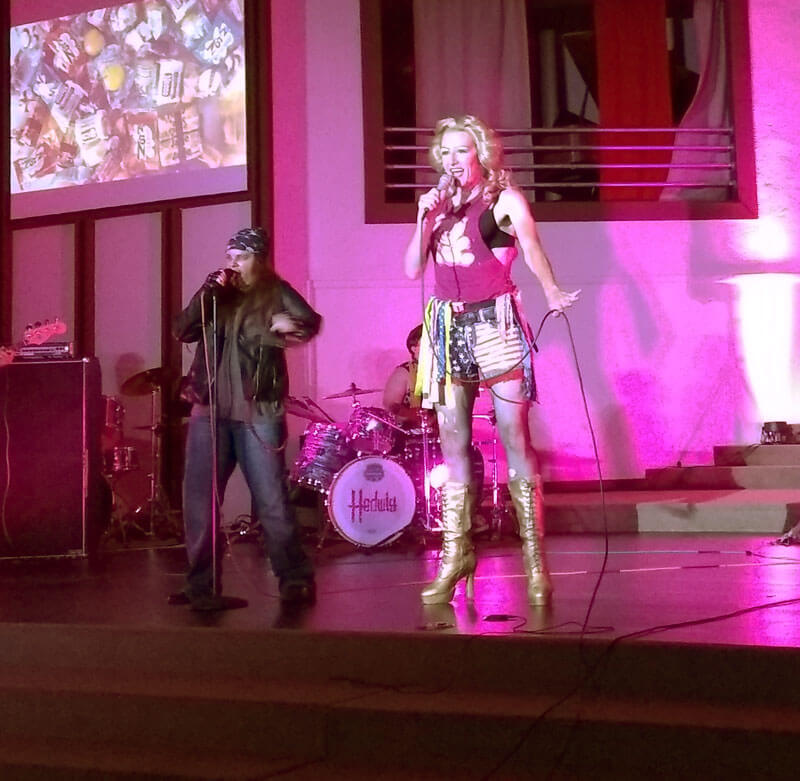 Roy Thomas
Playing Hedwig
I've lived some of those moments in Hedwig's life — we all have. That's what makes the story universal. It means different things to many people. I compare it to a worn-out paperback. It's a story you can go back to time and time again and pick different things from it, based on your life experiences.
The first year I did it, I went to a house party during King William's Fair. I was in character, because we'd played in a parade. People were asking me, "How do you like America? Is it different than Berlin?" It dawned on me that people think she's a real person. You get that kind of legitimization, and it's so great as an actor to be able to have that.
Donning the wig again
In the last 15 years or so, people have asked me, "Are you ever going to do Hedwig again? We got asked to perform at a screening at Oak Hills Tavern, where they were showing the movie. We figured, "Well, if we're going to do it for a night, why don't we do a weekend of it?" Nicole and I had lunch one day, and I wondered how much the rights were, and she said, "Let me check." Before I knew it, she called me up and said, "We got the rights!" and I said, "All right! We're doing Hedwig!"
I love these guys. Morgan's amazing. And the band — I couldn't ask for better musicians.
The significance of Hedwig

It's not just for the LGBTQ community. It's for housewives; it's for mechanics; it's for people of all walks of life. These stories that Hedwig tells — love, loss, redemption, atonement — they're universal. Hedwig is neither man nor woman. Hedwig is a blank slate; the perfect character for an audience to project on. It's a story about love and loss and being okay for being you. It's transcendent in that way. And it's a spiritual thing; it's hard for me to quantify it.
I'm not so interested in labels. I'm more interested in humanity. What's behind the mask that we wear every day? You can go to a Hedwig show, and you can see the dynamic between Hedwig and Yitzhak, or Hedwig and the fans. It's a story about the human experience. I really hope that's what people take away from it.
A drag queen doing punk rock onstage is inherently subversive, but behind it is a sweet story that anyone can connect to.
---
Hedwig and the Angry Inch plays June 11-14 at Woodlawn Pointe, 702 Donaldson Ave. Tickets can be purchased online.
Feature photo (l-r): Morgan Clyde, Alan Miller, Roy Thomas and Jesse James perform at the Oak Hills Tavern (Carl Adair).