San Antonio Film Festival Back In Person Aug. 5-8
The SAFILM-San Antonio Film Festival box office is officially open for the 27th annual celebration of independent film.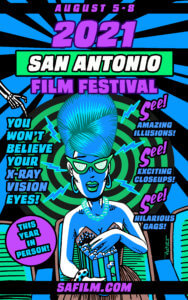 Back live and in person, the festival will be held Aug. 5-8 at Radius Center in downtown San Antonio. VIP festival passes are $109 for all-access to screenings, filmmaker panels and nightly parties, and VIPs receive the official and commemorative 2021 SAFILM T-shirt.
Individual tickets are $10 for daytime screenings and $15 for evening screenings and feature films. Click here to view the entire schedule and to purchase tickets.
"We're returning to our roots," says SAFILM Founder and Executive Director Adam Rocha, who celebrated last year's 26th annual festival virtually, due to the pandemic. "It's time to bring back the intimate screenings safely like we did in the old days, and celebrate our filmmakers who were cheated from showcasing their work to a real audience."
The 2021 Official Feature Selections include:
CELEB FEATURE
The Subject
Director: Lanie Zipoy
Jason Biggs (American Pie, Orange Is The New Black) character takes a dramatic turn as a successful white documentary filmmaker dealing with fallout from his last film, which caught the murder of a Black teenager on tape.
AWARD-WINNING DOC
My Father's Brothers
Director: Shawn Kelley
Award-winning documentary chronicling eight survivors of a horrific battle during the Vietnam War.
Q&A with three veterans after the screening: Bill Vose, Woody Davis, and Bubber Fishburne. Trailer.
JURY PRIZE
Show Me What You Got!
Director: Svetlana Cvetko
Richly filmed in black and white against the cityscape of Los Angeles, this is the story of three young millennials who meet by chance, form a whole-hearted ménage à trois and subtly challenge social norms surrounding love, sex and questioning.
LOCAL FILMMAKER
The Good Wolf
Director: Wilfred H. Shipley
Made on a micro-budget ($10k), this coming-of-age story stars Vic Trevino (Pee-wee's Playhouse, American Me) as James, a fugitive with an unknown past hiding in the woods, who meets Sam, a 12-year-old boy and his treehouse. Filmmakers in attendance.
HORROR FLICK
Blinders
Director: Tyler Savage
A man's life turns into a living nightmare when he befriends an unstable rideshare driver who becomes obsessed with him. Filmmakers in attendance.
The 2021 SAFILM-San Antonio Film Festival is presented by the San Antonio Film Commission, City of San Antonio Department of Arts & Culture, ARGO Group, Guerrero CPA, Law Offices of Mario Davila, Edible San Antonio, ArtScene SA, Guerrero Law, UTSA Film Studies, and Thompson Hotel.
For more information, visit SAFILM.com