Film Review: The Autobiographical 'Wild About Harry'
Originally lensed in 2009 and having received only festival screenings until now, director Gwen Wynne's autobiographical American Primitive will be available On Demand starting Friday, Dec. 17, under the new title Wild About Harry. Based on Wynne's own life, this is the story of a teenage girl coming to grips with her father's sexuality at a time when LBGTQ rights were still in the dark ages.
Tate Donovan (Rocketman) stars as Harry Goodhart, a recent widower who moves with his teenage daughters to an idyllic Cape Cod town where he sets up an American Primitive art studio with his "partner," Theo Gibbs (Adam Pascal), a man with whom he shares much more than a business. He introduces Theo to the girls, Maddie (Danielle Savre) and Daisy (Skye McCole Bartusiak), and informs them that Theo will also be living there. "In the back," says Theo teasingly, a comment which will bear much more weight later.
At their new high school, Maddie quickly falls in with the "in crowd," including class hunk Sam (Corey Sevier) and his A-list girlfriend Lucy (Johanna Braddy). She's so attracted to Sam that she doesn't notice that she has also drawn the attention of the soulful, soft-spoken townie Spoke (Josh Peck). When she trounces tennis team captain Lucy in a tryout match and makes googly-eyes at Sam, Lucy girds her loins and gets ready to defend her territory.
The following Saturday, Sam drives everyone to the Atlantic House in Provincetown for an evening of dancing. There, Maddie is fascinated by all of the men in colorful costumes and various states of drag. When she learns what sort of bar they are at, she exclaims "I've never seen a real queer before!" Scanning the crowd, she thinks she sees someone familiar, and is shocked to recognize her own father and Theo making moves on the dance floor.
Still mourning her mother and concerned about her father's aberrant behavior, Maddie dedicates all her efforts to bringing her father back to the healthy world of heterosexuality.
She practically throws him into the arms of Sam's flirty mother, Mrs. Brown (Anne Ramsay), who insists on having a welcoming party for the two men. There, everyone gathers around the keyboard for a rousing performance of the 1921 novelty song "Wild About Harry." The women are so smitten by their attractive new neighbors that they don't even notice Theo is affectionately singing directly to his Harry.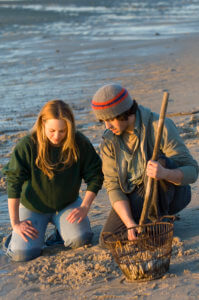 Meanwhile, Maddie continues to agonize over her father's metamorphosis and — God forbid! — what the neighbors would think. She confides in Sam, who she thinks has become her boyfriend, but he betrays her by quickly spilling the beans to Lucy. Of course, word spreads through the small town like wildfire, accompanied by the expected homophobic taunts.
In the 1970s, the idea of two men living together in a loving relationship was unthinkable — never mind throwing children into the mix. Of course, the holier-than-though parents (James B. Sikking and Susan Anspach) of his late wife arrive to rescue the girls from his debauched lifestyle. Harry realizes that he has no choice but to end the relationship with Theo if he wants to keep his family together.
All seems lost, but some words of wisdom from an unexpected source — Spoke — help Maddie to finally realize the love between Harry and Theo in a different (and more understanding) light.
With attractive Cape Cod cinematography by Chris Chomyn (including Woodstock-era split-screen shots, along with editor Joanne D'Antonio) and a pleasant score by Alice Wood (including evocative vintage songs), the film today plays like an interesting period piece twice removed in that it is set in 1973 but made in 2009, two eras far less evolved than today's world. And if the screenplay, co-written by Wynne and Mary Beth Fielder, sometimes wears its heart on its sleeve, it's earnest enough to let the emotion shine through, thanks to some committed performances by the cast (especially Donovan and Pascal).
Arguably not as surprising today as the groundbreaking That Certain Summer was back in 1972, Wild About Harry nevertheless serves as a reminder of how much the world has evolved. And Wynne's personal story running throughout certainly resonates.