SAFILM: New Poster Art Revealed; Legacy Award Recipient Announced
Last night, Adam Rocha, founder and Executive Director of the San Antonio Film Festival (SAFILM), threw a party at Bar 414 in the historic Sheraton Gunter Hotel to make a couple of big announcements.
The first was the announcement of actor and local legend Jesse Borrego as this year's SAFILM Legacy Award recipient. Borrego, whose work includes Blood In, Blood Out (1993), Lone Star (1996), Con Air (1997) and Columbiana (2011), appeared at last night's event to offer his thoughts about the city's historic tricentennial and the honor of having been selected for the award.
"It's wonderful to be able to say that I've been supporting the local independent scene and the dreamers that come from San Antonio for years," said Borrego. "For us, this [festival] is the culmination of many, many years of dreaming and working hard."
About Rocha, he added: "Even though he's in the education realm, I know him as a young filmmaker with stars in his eyes, who parlayed that into a dream to showcase independent film. For 24 years!"
Borrego also commented, "The [SAFILM] line-up is always the best of not only San Antonio filmmaking but internationally, and filmmakers from all over the world come to showcase at the San Antonio Film Festival."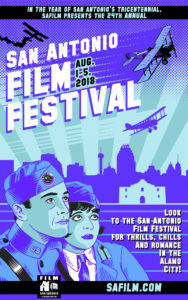 Unveiled at last night's event was the official 2018 San Antonio Film Festival poster, created by local artist Mike Fisher. Its design is inspired by the first Oscar-winning silent film, Wings (1927), which was directed by William A. Wellman and filmed in San Antonio.
The new poster features the film's stars, Clara Bow and Charles "Buddy" Rogers, and also includes iconic San Antonio landmarks in the background to commemorate the city's tricentennial as well as SAFILM's 24th anniversary.
The San Antonio Film Festival will be held Aug. 1-5, 2018, at the Tobin Center. Information can be located here. The next deadline for submitting films is Mar. 30, with the final deadline being Apr. 27. Entry information and fees can be found here.