Review: 'Jukebox Junkie' at the Harlequin
The Harlequin celebrates the return of in-person theater with Jukebox Junkie, Shawn Kjos' new musical revue that merges jukebox hits from the '60s and the '80s.
Ashton Folsom, Katie Molina, Deserae Oliva and Victoria Nieves comprise the "girl group" of performers. Whether singing together or soloing, they're all in excellent voice. They're also finely choreographed by Melissa Dean. Kjos provides the campy costume and wig design, which adds to the fun. The energy is high. Everyone seems to be having a good time, and they pass that feeling along to the audience.
Songs include The Supremes' "You Can't Hurry Love," The Beatles' "I Saw Her Standing There," Cyndi Lauper's "True Colors" and Depeche Mode's "Just Can't Get Enough." There are 33 songs in all, which may seem like a lot, but as the title of the show reminds us, these are the jukebox versions, and the cast breezes through them.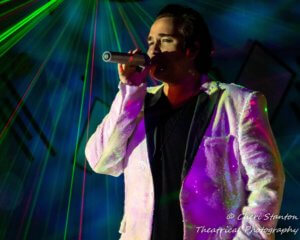 Kjos also shows up to perform three songs, including a nice ballad-style version of  a-ha's "Take On Me."
Along with the costuming, the set (designed by Dave Dean, Melissa Dean, Robert J. Olivas, Nicole Hot and Kjos) looks like an '80s album cover come to life, enhanced by Olivas' totally tubular lighting and laser design. All in all, it's a fun way to get back to the theater and revisit some old favorites.
Jukebox Junkie plays Thursday, Friday and Saturday at 8:00 p.m. through Nov. 14. at the Harlequin Theatre on 2652 Harney Path in Fort Sam Houston. Reservations can be made by calling (210) 222-9694. NOTE: Seating is limited, as the theater is following COVID-19 safety measures at this time.
Feature photo (l-r): Deserae Oliva, Katie Molina, Ashton Folsom and Victoria Nieves (photos by Cheri Stanton Theatrical Photography).