The Overtime's Jade Estrada Talks About the Ongoing New Play Development Series
The Overtime Theater is seeking new works from playwrights for WokeFEST, a showcase of progressive, activist, and political plays. The chosen play will be given a staged reading or a staged production Aug. 5-27, 2022 at the Overtime Theater. The script submissions window is open until 11:59 p.m. July 23, 2022.
In light of Covid-19 protocols, the Overtime is seeking plays that require one to five actors. Previously unproduced full-length and one-act plays are welcome, as well as longform monologues. The chosen play (or plays) will be given two rehearsals and one staged reading, which includes an audience feedback session or a fully staged production.
The purpose of this program is to give new and seasoned playwrights an opportunity to further develop new works. Devoted to producing new and original work, the Overtime is particularly interested in bold, innovative plays from across the progressive, political, and activist spectrum that are both provocative and entertaining.
For environmental reasons, the Overtime Theater is unable to accept script submissions delivered by mail or in person. Only submissions in a Word document or PDF will be considered. Applicants should use the title of the play as the name of the document, followed by the full name of the playwright. Cover letters should include a synopsis. One play per applicant. The Overtime accepts submissions from writers based in the U.S. or Canada.
The Overtime Theater is an all-volunteer organization and compensates playwrights with one equal share of donations to its tip jar at the end of the play's presentation.
Submissions should be sent to submissions@theovertimetheater.org. Attn: Jade Esteban Estrada, artistic director. Deadline is 11:59 p.m. July 23, 2022.
An Interview with Jade Esteban Estrada
Mr. Estrada was kind enough to give ArtScene SA his thoughts about the Overtime's essential role in serving communities that are too frequently overlooked.
"In order to reflect the community we serve, it's important to provide opportunities to all playwrights, regardless of age, gender identity, ethnicity, religion, or political beliefs. Since the inception of the New Play Development Series in January, we've had the pleasure of collaborating with writers from across the United States and Canada. As the creator of this program, this has been fulfilling and rewarding work. 
"The purpose of the program is to give new and seasoned playwrights an opportunity to further develop new works. 
"In February, in observance of Black History Month, we produced a staged reading of Coco Queens, a glorious full-length play by Los Angeles-based playwright LaDarrion Williams, who joined us via Zoom. Aisha Love made her directorial debut with the reading, and former District 2 City Councilwoman Jada Andrews-Sullivan played one of the supporting roles. Danielle King, of the Renaissance Guild, San Antonio's premiere Black theatre company, played one of the leads. The evening attracted a new and predominantly Black audience, and the post-show feedback session was nothing short of electrifying.
"Byrd Bonner, president of the Alamo Theatre Arts Council (ATAC) and Deborah Omowale Jarmon, director of the San Antonio African American Community Archive and Museum, attended and dynamically participated in the post-show discussion. I think a considerable part of the evening's success was giving the all-Black, all-female cast and female Black director artistic control of the reading. I remember a moment when, as the organizer, I could have joined the cast and director on stage to outro the show. But I stopped myself. "This is a moment for Black women," I thought. I remained in my seat during their standing ovation. It's a good decision and a memory I will always cherish. 
"In March, the Overtime produced the second installment of the New Play Development Series subtitled Women's Voices, in celebration of Women's History Month. This event brought a diverse group of creative individuals together on one stage. Actress/playwright Patricia Zamora, who is a member of the long-running bilingual show Las Nuevas Tamaleras, read for us, along with theatre veteran Christopher Champlin, formerly of the Harlequin Dinner Theater. Dan Grimm, one of the city's finest improv performers, read alongside Sarah Davis, a member of the San Antonio Dance Fringe, and Danielle King returned to perform. Tammie Bernal, one of San Antonio's best-known female stand-up comedians, was our stage directions reader. From a casting perspective, it was a thrilling collaboration.
Don't let anyone tell you otherwise: Casting is everything. 
"That month we presented Blurred Life by Dawn Xavier-Franklin from Ottawa, Lucky Numbers by Hope Hommersand from Chicago, and The Reverend Dr. Paul(i) Murray by Houston native Ada A. The Reverend Dr. Paul(i) Murray has the distinction of being the first play that we selected for a reading and a full production. The play will run June 3-25, 2022 in the Little Overtime Theater. Amy Abrigo, who left audiences spellbound in last month's Beneath the Surface, will direct. 
"In April, we produced the third installment of the New Play Development Series subtitled The Politics of Modern Love. This time, we presented a trio of short plays that bore the themes of politics and contemporary love. The plays included Pre-Nup by Pat Montley from Baltimore, School Days by George J. Bryjak from New York, and Have My Baby by Harry Fix from Anaheim, California. Melissa Martinez directed. 
"School Days, a provocative, politically charged short play, pokes fun at those who both idolize former President Donald J. Trump and indoctrinate young people in his political point of view.
"Bryjak's story inspired a great deal of feedback from the predominantly Latinx audience. The teacher and the children, characters played by adult actors, express anti-Mexican sentiment in the play. Mexican-born artist Nain Leon said that while at times the piece made him feel uncomfortable, it felt like "looking through a window" and hearing these surreptitious conversations. Later, we had in-depth discussions about the history of propaganda plays, which can be traced to the days of Ancient Greece. We talked about how theatre is and always has been a way to mobilize political, moral, and social attitudes, and how the battle for men's minds is as old as human history.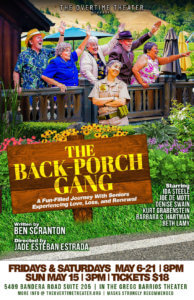 "The New Play Development Series has also brought older playwrights to our attention. Last month, I received a comedic monologue from a 99-year-old playwright. I have selected this piece for our July reading. 
"This month at the Overtime Theater, seniors are in the spotlight with The Back-Porch Gang, a new comedy by Ben Scranton where the majority of our actors are over the age of 70. This play, which stars Joe De Mott, Ida Steele, Barbara S. Hartman, Kurt Grabenstein, Denise Swain, and Beth Lamy, runs May 6-21 on our mainstage. 
"Spin-off programs have included our Choreographies series, dance showcases that focus on the process of choreography. We started this program in March during Women's History Month. As we are a home for playwrights, it seemed natural to open our doors to the South Texas dance community.
"In August, we will present WokeFEST, a showcase of progressive, political, and activist plays. I've been conceptualizing this event for years. I'm looking forward to experiencing  playwrights' political and ideological views through the medium of theatre. 
"Our goal is to bring relevant, transformational stories to the community we serve. 
"In my opinion, we're just getting started."
Feature photo (left to right): Jackie Velez and Mary Becquet in the staged reading of School Days by George J. Bryjak in March. School Days is an official selection of the 2022 New Play Development Series at the Overtime Theater in San Antonio, Texas. Photo: Victoria Garcia.