Luminaria Online Auction Fundraiser: A Bid on Art & Experiences
The auction starts today and runs through May 20.
In support of the arts and artists in San Antonio, Luminaria is launching its inaugural Luminaria Online Fundraiser Auction: A Bid on Art & Experiences this month. The online auction kicked off today and will conclude on May 20 at 11:45 p.m. Its goal is to showcase and promote artists, local businesses, and arts supporters in a fun and engaging fundraising event. Everyone can participate from the comfort of their phone or computer.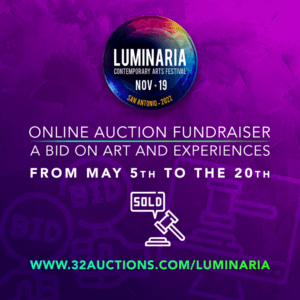 This arts fundraiser will feature artists' original artwork; limited edition prints; swag bags of merchandise including band T-shirts and concert posters; gift certificates of $25 or more; concert tickets; free admission; memberships; as well as unique experiences such as one-hour consultations; private tours; and exclusive access to an artist or event. "Buy Now" options will be available for each item.
Proceeds raised during this auction event will support the 2022 Luminaria Contemporary Arts Festival, which will be held on Nov. 19 in downtown San Antonio. Last year, over 200 artists and 30,000 attendees visited the illuminated artwork on display throughout downtown's Hemisfair and the Henry B. Gonzalez Convention Center.
"This auction will support the upcoming festival and provide arts patrons the opportunity to own a work of art or experience a performance catered just for the auction winner," said Yadhira Lozano, Luminaria Executive Director. "The arts support the San Antonio economy, attracting thousands of visitors every year. The more we support local artists, the more our city thrives."
"Arts es vida! Arts es cultura! The arts are one of the things we cannot lose in this world. That is why I am a big supporter of Luminaria and all that they do to serve the San Antonio arts community," said Jesus Toro Martinez, who is offering up a private culinary experience at his home for the auction. The winner will be able to invite a group of ten to enjoy dinner and take home an original work of art.
To participate in the online auction, click here.
About Luminaria
Luminaria is a dynamic nonprofit arts organization dedicated to producing and promoting the arts to the city of San Antonio by managing the annual iconic Luminaria Contemporary Arts Festival on Nov. 19, 2022, one of the most prominent contemporary art festivals in South Texas. Luminaria receives support from the City of San Antonio's Department of Arts & Culture, National Endowment for the Arts, Texas Commission on the Arts, John L. Santikos Charitable Foundation of the San Antonio Area Foundation, Elizabeth Huth Coates Charitable Foundation, Phil and Linda Hardberger, and numerous other foundations and private donors.
For more information or to make a donation, visit LuminariaSA.org, email Luminaria at admin@LuminariaSA.org, or call (210) 721-1670. Visit on Facebook, Instagram, Twitter, or YouTube at @LuminariaSA – #Luminaria #LuminariaSA #Luminaria2022.
Feature image: Luminaria — South Texas Sunflowers by Jose Toro Martinez.