Mat Kearney and Atlas Genius Coming to the Aztec Oct. 3
Singer/songwriter Kearney brings his CRAZYTALK tour to the Aztec along with Atlas Genius.

Mat Kearney
CRAZYTALK is Mat Kearney's fifth album. It mixes his most timeless songwriting to date with a wide, genre-bending set of interests. There are organic instruments, electronic samples, chill house grooves, tropical sounds and collaborations with DJs like AFSHeeN, filous and RAC, all brought together by an emphasis on ageless hooks and thought-provoking lyrics.
The result is one of the most adventurous, nuanced albums of his acclaimed career, filled with EDM drops one minute and acoustic guitars the next. It's a sound that nods to Kearney's history as a melody-driven songwriter even as it pushes him into new territory.
"Back in Oregon, I was a punk skater kid who fell in love with Lauryn Hill, Tribe Called Quest, and Bel Biv Devoe," he says. "At the same time, I also loved playing my buddy's guitar. In a way, I'll always be that kid, drawing from the influences I grew up with."
Combining classic songs with modern, beat-heavy production, CRAZYTALK offers up a sound that's both cerebral and visceral. It's music for the head and the heart, but it's also music for the dance floor.

Atlas Genius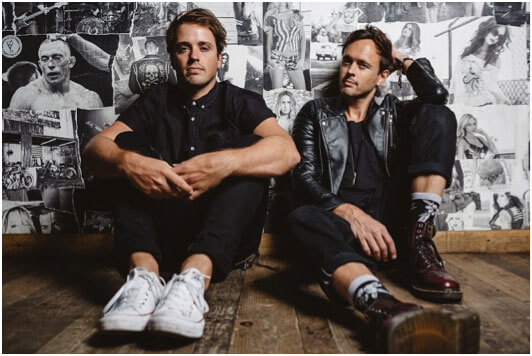 For brothers Keith and Michael Jeffery, home holds a certain kind of magic. The coastal Australian city where they grew up is more than the cradle of their youth — it was the soil for their dreams and the birthplace of their success. Australia was where they forged their breakout hit, "Trojans," which earned them a gold record and took Atlas Genius from studio project to critically acclaimed international act.
After a few months turned into two years on the road in support of their debut album, When It Was Now, home beckoned. But back in Australia, the blank canvas the brothers faced reflected back two very different people from the ones who had crafted the first album.
"All of a sudden we're back in the same place but we're totally different people. We just couldn't stay if we wanted to challenge ourselves and take the next step."
Keith and Michael headed to Los Angeles to record new material in the city that had sparked creative energy for so many artists before them. Their experience within the bright Angeleno expanse juxtaposed against the darkness of the unknown, which quickly became the through-line that would tie together Atlas Genius' second album, Inanimate Objects.
Mat Kearney and Atlas Genius
Wednesday, Oct. 3, 2018
The Aztec Theater
104 N. St. Mary's St.
(210) 812-4355
Doors: 6:30 p.m
Show: 7:30 p.m.
Tickets