'Hello, Dolly!' at the Woodlawn is Musical Comedy Gold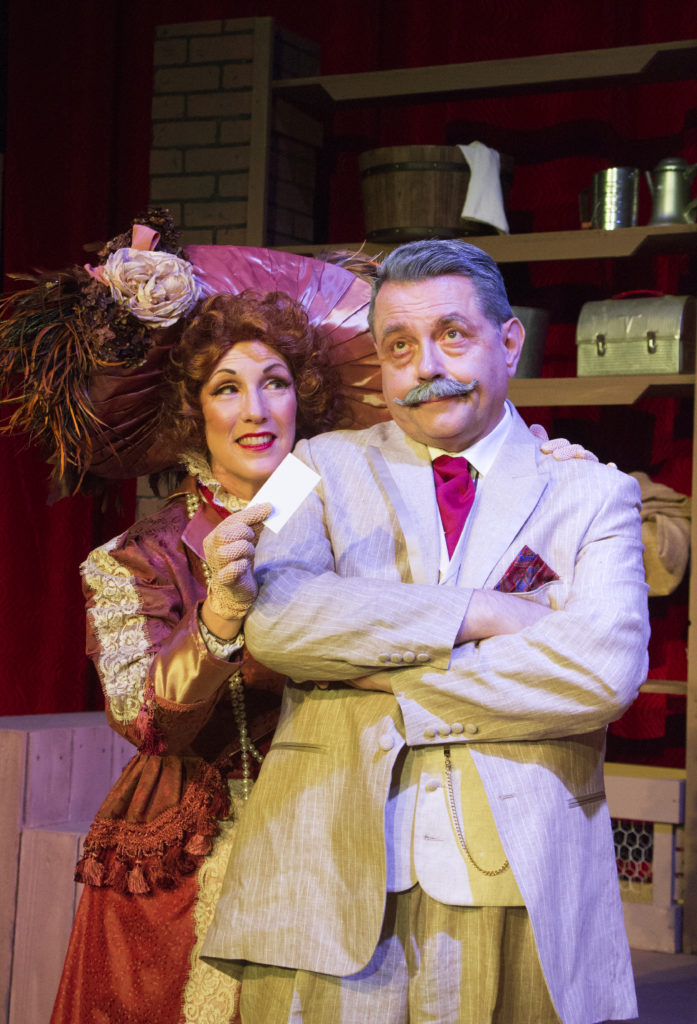 Based on Thornton Wilder's The Matchmaker, the Tony Award-winning musical Hello, Dolly! made its Broadway debut in 1964 and has been playing almost continuously ever since. With a book by Michael Stewart and score by Jerry Herman, the show is brimming with tunes that are now standards. Even Dolly neophytes (if there are any) will be surprised at how many of the songs they know.
The Woodlawn's new production, directed and choreographed by Christopher Rodriguez, presents the piece as it is meant to be presented — big, brassy and bursting with life.
Anna Gangai plays the matchmaker with appealing aplomb, and Tim Hedgepeth is an amusingly crusty Horace Vandergelder. Brian Hodges and Gid De La Rosa supply youthful exuberance as Cornelius and Barnaby, the shop clerks with stars in their eyes. Rebekah Williams brings a fetching sweetness to the role of Irene Molloy, the widow who pines for a new romance, and Amy Mirales gets well-deserved laughs as her nervous assistant, Minnie. Dorianna James Curry is a saucy Ernestina, the woman whom Dolly matches Horace up with. Also appealing are Lorenzo Mireles and Jimmie Nelson-Reid as young artist Ambrose and his beloved, the continually sobbing Ermengarde (who is also Horace's niece).
Rodriguez directs Dolly with nonstop energy. The large cast is constantly moving about the stage, which gives the production an appropriate "New York hustle and bustle" feel. His choreography is also energetic, and it is performed by the excellent ensemble cast with skill. The voices are all first-rate as well.
Benjamin Grabill's scenic design, employing a combination of breakaway sets and projections, convincingly portray the many locations, and Rose Kennedy's astounding array of 1900-era costumes provide even more glitter to this already sparkling show. Josh Pepper's musical direction, combined with Matt Smith's lighting and Benjamin Farrar's sound design, bring it all to life.
It is recommended that you reserve your tickets now — before the parade passes by.
Hello, Dolly! plays Fridays and Saturdays at 7:30 p.m. and Sundays at 3:00 p.m. through Sept. 16 at the Woodlawn Theatre, 1920 Fredericksburg Road. Tickets are available online or by calling the box office at (210) 267-8388.
Photos courtesy of the Woodlawn Theatre.
FIFTH ANNUAL DECO GALA

On Sept. 22 at 7:00 p.m., the Woodlawn will hold its fifth annual Deco Gala. Attendees will enjoy an evening of dinner, cocktails, dancing, and live entertainment in an intimate setting at the Plaza Club overlooking downtown San Antonio. More information can be found here.