Heartfelt Tributes Spark the 25th Annual San Antonio Film Festival Awards
On Friday, Aug. 2, SAFILM — The San Antonio Film Festival held its star-studded awards ceremony at the Carlos Alvarez Studio Theater in the Tobin Center for the Performing Arts.
In addition to the awards for the celebrity guests and filmmakers, SAFILM founder and Executive Director Adam Rocha was also deservedly recognized. Jeffrey Arndt, president and CEO of VIA, served as the emcee for the event.
Actor and longtime San Antonio resident Jackie Earle Haley was the recipient of the 2019 Legacy Award. Born in Northridge, California, Haley has made San Antonio his home for the past two decades. "I'm proud to live here, and I'm proud to see what the film community is doing," he said. "I'm also proud of what Adam has done, taking an underground film festival and turning it into what it is 25 years later."
The great Cybill Shepherd was visibly moved when she was presented with the Marcia Nasatir Award by Anne Goursaud, director of A Classy Broad, the documentary about the legendary producer's storied life. Born in San Antonio, the pioneering Nasatir rose through the ranks in male-dominated Hollywood and broke the glass ceiling for those who came after her.
Dismissing the perceived political incorrectness of the film's title, Shepherd said, "The term broad isn't an insult — it's a compliment." Shepherd's latest film, Being Rose, screened at SAFILM on Saturday, Aug. 3.
San Antonio native Kevin Alejandro received the first annual SAFILM Maverick Award on Friday. Known for his work in such high-profile shows as True Blood, Arrow and Lucifer, he said, "Texas is such a big part of who I am, so this award means the world to me."
Mayor Ron Nirenberg was also on hand to deliver the big award of the evening — a commendation to SAFILM's Adam Rocha from the city council. A high school film teacher, Rocha has contributed his summer vacations to the Festival for a quarter century in his efforts to further the arts in the Alamo City. And he's making a recognizable impact.
The entire list of awards:
SAFILM Marcia Nasatir Award
Cybill Shepherd
International Film Achievement Award
Zhang Jinzhan
Maverick Award
Kevin Alejandro
Legacy Award
Jackie Earle Haley
Short Screenplay Winner
Songbird on the Wire
Feature Screenplay Winner
An Undocumented Rumor
Jury Prize
Best Actor in a Leading Role
One Day Notice
Adam Lopez
Jury Prize
Best Actress in a Leading Role
Ginger
Susan Gordon
Jury Prize for Best Narrative Short
Yes But No
Directed by:  Maria Dioni
Jury Prize for Best Documentary Short
25 Texans in the Land of Lincoln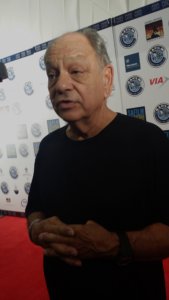 Director: Ellen Brodsky
Jury Prize for best Historical Feature Documentary
Red Dog
Directors: Casey Pinkston & Luke Dick
Jury Prize for Best Animated Short
The Admin: Episode 1 – Healthy Choices vs the Breakfast Taco
Director: Robert B Gonzales
Jury Prize for Best Music Video
Subterranean
Francis Trachta & Chus Sarrión
Jury Prize for Best College Filmmaker
Cake
Director: Esmeralda Hernandez
Audience Choice Award — Narrative
Teenage Girl: Valerie's Holiday
Director: Aaron Lee Lopez

SAFILM Director's Cut Award
The Cat and the Moon
Director: Alex Wolff
SAFILM Grand Prize
I Am Patrick Swayze
Director: Adrian Buitenhuis
Lifetime Achievement Award
Actor and Director Richard Anthony "Cheech" Marin
Feature photo: Kevin Alejandro and Cybill Shepherd help SAFILM's Adam Rocha cut the cake.