Classic Theatre Season 11 Auditions May 18-19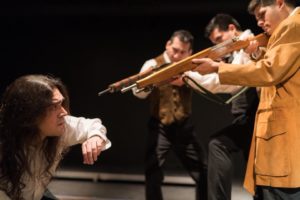 San Antonio actors, mark your calendars!
Auditions for The Classic Theatre's eleventh season will take place May 18 from 6:00 p.m. to 10:00 p.m., and May 19 from 10:00 a.m. to 2:00 p.m., at 1924 Fredericksburg Road.
Directors will be present and casting roles.
Please prepare two one-minute monologues: one Shakespeare/classical and one contemporary. Call the box office at 210-589-8450 to reserve your audition slot.
All roles will receive a stipend.
Season 11 shows:
A Midsummer Night's Dream
By William Shakespeare
Sept. 7-30, 2018
Directed by Joe Goscinski
Miss Bennett: Christmas at Pemberley
By Lauren Gunderson and Margot Melcon
Nov. 30 to Dec. 23, 2018
Directed by Kelly Roush
The Trip to Bountiful
By Horton Foote
Feb. 15 to Mar. 10, 2019
Director TBA
The Little Foxes
By Lillian Hellman
May 3-26, 2019
Directed by Melissa Utley
The Classic Theatre is a small professional non-profit theater in San Antonio dedicated to creating excellent stagework that is relevant, diverse, entertaining and transformative.
It was founded in 2008 to build a professional community that inspires passionate involvement in a shared theatrical experience and to generate a source of pride for the city. The Classic Theatre of San Antonio is recognized by the Internal Revenue Service as a 501 (c) 3, non-profit corporation.