Band Interview: San Antonio's Finding Friday
Finding Friday has been a fixture on the San Antonio music scene for almost a decade. With its exciting stage presence and wealth of musical styles, Finding Friday is in constant demand, playing 12 to 15 gigs per month at local clubs, Fiesta events, Spurs games, SeaWorld and more. The band even has a Mexican lager named after it, courtesy of Busted Sandal Brewing Company.
ArtScene SA caught up with four of the busy band's members during a recent rehearsal to talk about the past, present and future of Finding Friday. Interviewees included James Garcia, the band's owner/manager and guitarist; Jennifer Espinoza, vocalist; David Garza, keyboards; and Guillermo Rodriguez, bassist.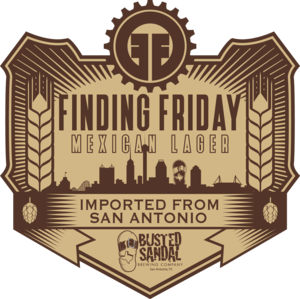 ArtScene SA: How did Finding Friday begin?
James: That's the greatest story, actually. Finding Friday began even before I was in the band. I joined at the time it was being fronted by Amy Francis. She had a bunch of revolving musicians, essentially, so it was whoever was available to do the date. And she did a lot of acoustic stuff with two or three people at the most.
Once I got off the road, I joined her band full-time. She ended up getting another job. The night that she quit her own band, she handed it over to me and the drummer at the time, Chris Lawson, who was my best friend. Anyway, as fate would have it, that was the exact same night we met Chris Byrd, who is our lead singer. So Amy had just quit the band, and I had joined just two months prior. I'm fresh off the road, and I don't know a lot of people in the San Antonio music scene.
So we meet Chris [Byrd]. He sings a couple of songs and I ask, "What are you doing next week?" We already had gigs booked. When Amy left, she said "Take the gigs, take the name and just go!" So the next week, we just start going and literally haven't stopped in nine years. It's been good!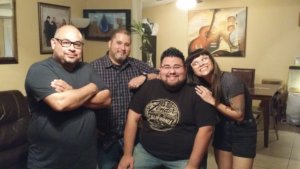 How many gigs a month?
James: At that time, it was maybe four or five a month. Now, we're doing 12 to 15.
Jennifer, when did you join?
Jennifer: I joined at the end of December.
So you're very recent. How are you liking it?
Jennifer: Best move I made in a long time.
What styles of music do you like to sing?
Jennifer: I like to sing everything. My main thing is rock and roll music. I do the old R&B, soul…like Motown stuff. Those are my favorite things. But I'll sing anything and make it my own!
James: David's fairly new to the band, too. About six months now?
David: Yeah.
James: Essentially the core of the band has been together for quite some time. not just Finding Friday. I'd take off to this band, they'd take off to another band, and eventually we'd all come back together again.
Guillermo: I've been with the band for six years. James called me up and asked if I could help him out. Six years later, I'm still helping him out!
What are your musical backgrounds?
James: I did Tejano for most of my career. Towards the end of my time on the road, I was doing top 40 and the cover band scene in Dallas and Austin. I was doing the whole Sherlocks scene in Houston when it was really hot. Now we're really lucky that we don't have to travel. We're just knocking it out here in San Antonio.
Guillermo: Back in the early '90s, the thing to do was Tejano. We were lucky enough to connect with Tejano artists, record some albums and do some touring. That's what we did for a long time, but then we decided to do something different.
Jennifer: I've always done covers my whole life. It started when I was nine, downtown at Market Square and La Villita. At 16, I was hired by Six Flags Fiesta Texas, and had been working there until just last year. I left for a good reason — for Finding Friday.
I did some touring with the Queen Extravaganza, the official Queen tribute band put together by Roger Taylor and Brian May. I played a few dates with Big Brother and the Holding Company, which was Janis Joplin's band. I did that first tour when I was 14. They saw me on YouTube singing "Piece of My Heart" and said, "Who is this little girl? Get her here to sing!"
James: And David is a producer of many talents. He always says, "Oh, I know those guys…"
David: I always get teased because apparently I know everybody.
Are you a name-dropper?
David: That's what they call me. I mainly do music production. I come from a musical family. I'm cousins with Guillermo. We have a lot of musicians in the Tejano world. When I was 15, I started playing at a church, and then I started doing background vocals for a couple of productions. I moved to Mexico when I was 18 and started working with a lot of national acts. Eventually I started touring South America and worked with a lot of big musicians. I worked in San Diego, doing a lot of productions of mainly Latin pop artists.
Then I moved back to Texas, got married and got back into playing. It's an amazing experience to be with this band, because everyone brings so much to it. They've all got these huge backgrounds, but there's no ego because everyone's already done their rodeo. In the end, we just all come together and make it happen.
James: It's a nice stew.
It does seem like a family…
James. That's the difference between us and other bands. It's not just business. We really enjoy hanging out together. The camaraderie has to be there.
Where around San Antonio can you be seen?
James: Things have changed slightly. We had a residency going on at Picks for a while, but that's ended for now. Silo may be our next big venue to be seen at. Spurs games, Angry Elephant, Thirsty's S.A. on the South Side. You can also find us at the Groove House. We're going to spread it around town a little bit more than we have in previous years. We've got a nice little following on this side of town, so we need to build up a little bit more on the other side, you know what I'm saying?
So you have a lot of groupies?
James: Well, you know…people go where they want to go. I never promise anyone a crowd, but we see a lot of the same faces, and we're always happy about that. People come out to see you play even though they just saw you the night before. It's a good feeling. We've gotten to be friends with the people who come to the shows. So much so that we go to their houses for barbecue.
Guillermo: Yeah, they become our friends. They travel with us. We go play Port Aransas every year during the summer and they'll go out there with us. It's pretty cool, those friendships.
Any unusual places that you've played?
James: Well, there's one. We were doing a gig once a month at a swingers' club here in town. That was interesting. Didn't last very long. It was very uncomfortable, to say the least. It was like that Tom Cruise movie? Where everyone's wearing masks?
Eyes Wide Shut?
James. Yeah, yeah. I wish we were wearing masks! Other than that, most of the gigs have been fairly vanilla.
What would you say are your trademark songs? The ones your fans want to hear you play?
James: Well, right now, "Shallow" is pretty popular for us, from the new Star is Born. Otherwise, we do such a wide range of stuff. We did a lot of Prince for a while…
Jennifer: People look forward to Prince and Michael Jackson.
James: Chris Byrd, our male vocalist. He's got quite a range.
Jennifer: He can sang…
James: And also, too, with the Latin stuff. We do some Marc Anthony that David sings on. I don't think there's any one thing that everybody asks for, but the Michael Jackson stuff always goes. We have a Selena medley that we do that's pretty popular, too.
Jennifer: Something for everybody.
James: I would say it's anything with me playing guitar, but that's not necessarily true (laughs)…
What are your aspirations for the future?
James: Great question. We've been trying for many years to get some original stuff going, but we've got so much going on it's difficult to fit it all in. It always makes the original stuff kind of hit the back burner. That's been a frustration for a long time, so we're hoping that in this next year we can at least get started.
And, of course, to continue to be as successful as we have been. It's really a blessing for any band to play as much as we do. With any artist, it's feast or famine. And we've been eating pretty good for a while.
UPCOMING FINDING FRIDAY DATES:
4/23 — Fiesta de Los Reyes @ Market Square
4/24 — Taste of the Northside VIP
4/26 — SeaWorld Seven Seas Food Festival
4/28 — Private Event: Pearl Stable
5/2 — SeaWorld
5/10 — Groove House
5/23 — SA Zoo: Zoo La-La! "Taste of" event
5/31 — Thirsty's SA