Aria Creative Productions Presents a One-Night Cabaret Show to Benefit SA Youth
Aria Creative Productions proudly presents Chelsea Marie's Procrastination Cabaret, a one-night-only event at 7:30 p.m. Saturday October 1, 2022. The event, which benefits local non-profit SA Youth, will take place at Woodlawn Pointe Center for Community at 702 Donaldson Ave, San Antonio, TX 78201. The venue is located across from Thomas Jefferson High School. General admission tickets are $20. Tickets are $20.00 general admission and available online at Eventbrite or via ariacreativeproductions.com. Limited tickets available at the door. No refunds.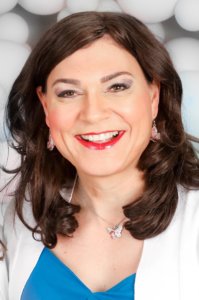 S.A. Youth's mission is to empower San Antonio's high-risk youth and young adults to achieve their full potential by providing quality educational programming in a safe environment.
The Procrastination Cabaret is the brainchild of local theater legend Chelsea Marie, formerly known as "Roy" Bumgarner. Ms. Bumgarner has been performing on San Antonio stages for the last 25 years and this will be her first performance as Chelsea. The cabaret show is one of three fundraising events Chelsea is leading in her effort to raise $5,000 for S.A. Youth. If successful, she will earn the Ambassador title of 2022 Chips N Salsa Queen at their annual fundraising gala on October 7, 2022.
"Chips refers to casino chips and salsa refers to the dance. Being in San Antonio, we think about food, so I have had to clarify it!", Chelsea says with a laugh. "I'm overjoyed to have the opportunity to perform as my true self after a long hiatus due to Covid and my transition. This is such an important cause and I want to help," says. Chelsea.
"I was raised in a very poor home. As a child of two alcoholics, I endured domestic violence and horrors no child should have to go through. Having grown up in poverty, I've always had a place in my heart for underprivileged children. Despite my upbringing, I have managed to build a successful career and life for myself and my family. My hope is that I can spread the message that children can achieve whatever they desire to become, regardless of their circumstances. I'm passionate about SA Youth's mission and am excited to return to the stage with my theatre friends for a good cause."
The show features DuWayne Greene, Chris Berry, Paige Berry, Beth Erwin, Nicole Erwin, Robby Vance, Michelle Bumgarner, and Allison Cornwell. These renowned musical theatre artists will perform hits from Broadway shows including Little Shop of Horrors, Anything Goes, Jekyll & Hyde, Cabaret, and many other show-stopping hits.
Aria Creative's Executive Director, Nicole Erwin, said "Aria Creative Productions is passionate about helping the community and working with non-profits. We have partnered with Fiesta Youth, Pride San Antonio, American Veterans for Equal Rights, and the Alzheimer's Association of San Antonio. We are excited to have another organization to add to our growing list."
Raffle tickets for an array of locally donated services and items are available for anyone to purchase, regardless of their event attendance. Those wishing to make a tax-deductible donation to S.A. Youth will receive a confirmation of their donation after the event.